RTS and Micex halt trade for second day as initial recovery turns sour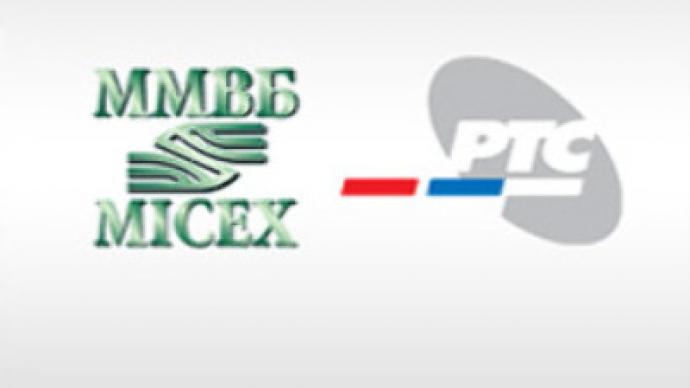 Wednesday has seen the Russian indices initially recover some of the ground they lost in Tuesdays massive slump, before a further wave of selling saw a renewed slump, with the Micex and RTS calling a trading halt shortly after 1200 Moscow time.
The picture was initially more positive on Wednesday morning after the Dow managed a gain overnight in the U.S. on the back of an announcement by the U.S. Federal Reserve, that it would lend stricken insurer AIG $85 Billion in exchange for control of just under 80% of the stock of the company.
The move headed off fears that the company could collapse, and will give it time to dispose of assets in a manner that will not undermine the global financial system. In its statement the Fed noted;
"The Board determined that, in current circumstances, a disorderly failure of AIG could add to already significant levels of financial market fragility and lead to substantially higher borrowing costs, reduced household wealth, and materially weaker economic performance.
The purpose of this liquidity facility is to assist AIG in meeting its obligations as they come due. This loan will facilitate a process under which AIG will sell certain of its businesses in an orderly manner, with the least possible disruption to the overall economy."
Further positive news for the Russian markets came from the announcement that the Russian government had allocated $44 Billion to major local banks to ease liquidity problems. The news initially saw the RTS and Micex in positive territory before a further wave of selling late in the morning pushed both indices deep into the red. Both exchanges called a trading halt shortly after Midday.
Prior to the close the Micex had recovered from being more than 9% lower, to be 3% down. The RTS was 6% down.
Amongst major stocks Sberbank was down 10% on the Micex with VTB down 12%.
A driver of this morning sell off are reports that Russian investment bank KIT Finance is looking to find a strategic investor, following failure to settle on repo operations on Tuesday.
You can share this story on social media: