Rouble slumps against dollar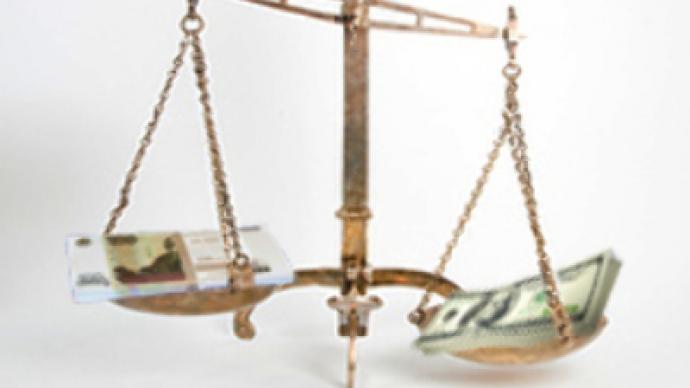 The Russian Rouble has fallen to its lowest level against the U.S. dollar in 2 years, after 6 successive days of falls.
On Wednesday morning A dollar was worth 26 Roubles 92 kopecks, up from 26.70 on Tuesday. Conversely, the Rouble is stronger against the euro. The rise largely reflects a strengthening greenback which has appreciated against nearly all major currencies over recent months, with American investors needing the currency to repatriate foreign investments to the U.S. in the wake of chaos in the financial system, and commodity prices collapsing since the middle of the year. In recent days the British pound, and the Australian, New Zealand and Canadian dollars have all hit long term lows against the American currency.
Chris Weafer from Uralsib predicts the Rouble will come under further downward pressure if crude prices continue to fall, but that short of a major collapse in energy prices the Government and Central Bank of Russia can be expected to try and defend the currency.
"The governments two main priorities right now are to keep a stable currency, and to make sure that theres no problems in the banking system, because what they are primarily concerned about now is that there'll be a loss of confidence either in the rouble or the banking system which will result in a run on the banks – people taking their money out and rushing to convert it to foreign currencies. But I think for the foreseeable future, ie. For the next couple of weeks, as long as oil is anywhere above $60 BBL, they will defend it."
You can share this story on social media: