Rouble signals mixed as strengthening concerns mount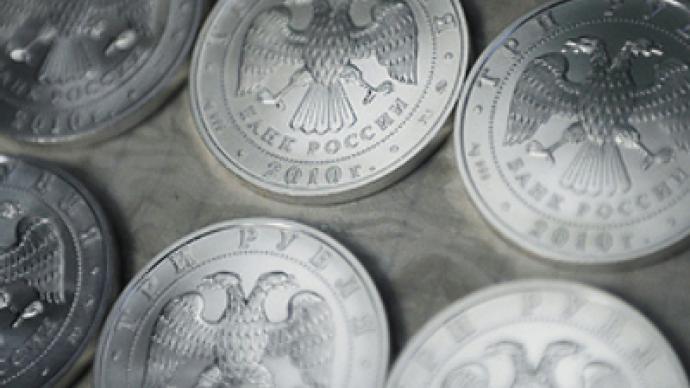 With the Russian Rouble holding at about 29 to the US dollar, analysts are wary about its likely future movements, with concern mounting about the impact of a rising Rouble on manufacturers.
A year of refinancing rate cuts by the Central Bank of Russia bringing them down to 8.25% has taken little of the sting out of an appreciating Russian Rouble, which continues to trade at around 29 to the US dollar.
Despite this, Russia's currency has rebounded strongly over the course of 2009 and into 2010, driven largely by crude oil prices, which currently are holding well above $80/bbl, and well above the level on which the Russian budget is based.
That is leading to increasing talk of the currency appreciating further and of the impact that this may have on domestic producers. In Washington this week, First deputy Prime Minister Igor Shuvalov said he thought that despite the Rouble reaching its strongest levels in about 15 months it "hadn't appreciated that dramatically" before warning about both the future direction of the Rouble and the impact this could have on Russian manufacturing exporters and import competing industries.
"In the long term, or even a period of three or five years, we will observe the strengthening of the Rouble," and adding, "The Rouble will appreciate and a few industries will suffer."
The rate cuts by the Central Bank have started flowing through to lending, which began to rise in March, with Ministry of Finance data indicating that Russian imports in the same month were up 28% year on year, with Central Bank Sergei Ignatiev conceding earlier this month that a sharp increase in imports could affect Russia's balance of payments and exchange rate.
Danila Levchenko, Chief Economist at Otkrytie FC, says interest rate movements in Russia and abroad will determine the immediate outlook for the Russian currency
"We retain our 2010 forecast for rouble at 29.5 per dollar. But, in fact, very much depends on political decision, namely whether Russia's authorities cut the refinancing rate this week or not. Talking mid term, the US Federal Reserve is likely to increase its interest rate, which will cause capital outflow and ease national currencies including rouble."
Levchenko adds that there is currently uncertainty about whether the Central bank of Russia will cut rates again, noting that there are differing views amongst key decision makers.
"There is a major disagreement among Russia's officials on the issue, with the Ministry of Finance being against the move and Prime Minister Putin and Minister for Economic Development Nabiullina saying there are almost no risks for another rate cut. As I see it, all economic preconditions for it are there, but the decision will mostly depend on political issues."
Anton Tabakh, senior analyst at Troika Dialog, believes the rouble could appreciate further in the short term before possibly easing in the second half of this year against the dollar euro currency basket.
"Taken at the current oil prices, the currency basket will cost about 32-33 Roubles by the mid 2010 and then, when further cut rates will be impossible, it will go up to 33-34.5 roubles."
Tabakh believes the Rouble is influenced by expectations about budget expenditures, as well as oil and interest rates, with Anton Kulyk, Director of Forex operations at AlfaBank adding that global factors, including uncertainty about various nations in the Eurozone also have the capacity to move the Russian currency sharply.
"There are both foreign and domestic factors driving the Rouble. For example, another default, like that in Greece, or a sharp fluctuation in the oil price will definitely influence the Rouble."
Tabakh believes that although another refinancing rate cut by the Central Bank of Russia will have only a minimal impact on the Russian currency, but that a clear signal that the cycle of rate cuts is over could have a stronger effect.
"Another interest rate cut is quite possible, but short term it won't influence the Rouble. But the understanding that rate cuts are over will provide the impetus for Rouble to depreciate."
He adds that for the Russian economy a rising Rouble has two key effects.

"As always there are two sides of the coin. On the one hand, a more expensive Rouble is a "choker" for Russia's industry, while, on the other, it'll reduce the inflation. A cheaper Rouble is good for exporters, but will hurt the financial sector. As for households in Russia, there's no much difference, though in the first scenario they will have better employment and the latter means lower prices. "

You can share this story on social media: