Rouble in the spotlight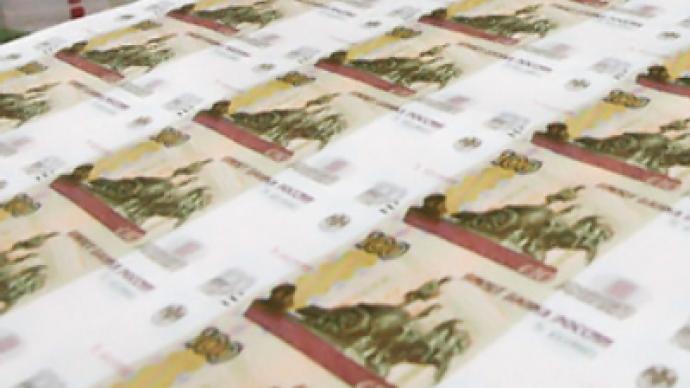 RT's Spotlight has interviewed Aleksey Ulyukaev, Deputy Chairman of the Central Bank. He spoke to RT in detail about what will happen to the Russian currency in the near future.
Are we yet to witness hard times?
The Russian foreign debt is quite small, meaning the sovereign debt, but the corporate debt is quite big. At the moment it is around $US 450 billion… If we look at a similar crisis in the past, such as the Great Depression in the 1920s and 30s and the crisis of the 50s, we will see that normally it takes two to three years, after the lowest point is fixed, for the volatility of the indexes and figures to subdue. I think in this case, we are looking at the end of 2009 or the beginning of 2010 for the recovery period to begin. So I think we still have one more troubled year ahead of us.
Can you give us the volume of the capital outflow from Russia this year?
During the three quarters, Russia has a neutral position, in terms of net private capital inflow and outflow. The first and third quarter of the year were more or less average, but we have had a very good second quarter. However, starting in September and October, we began accumulating capital outflow and, after 11 months, it is around $US 80 billion. Probably, the final figure for 2008 could be closer to $US 100 billion.
Regarding Russia's 'financial airbag'
I would say something is left, of course. I would say we now have $US 440 billion in our coffers. It means we're still number three in the world after China and Japan. And this sum is divided between us – the Central Bank – and the Finance Ministry. Roughly $US 260 billion is ours and $US 180 billion is owned by the Finance Ministry. In both these senses we have more than enough currency to fulfill all our obligations – not only in 2009, but also if necessary in 2010 also. We are in a position to be able to pay everything.
Why does the Central Bank produce kopeks?
We produce them because we have to be in accordance with the legislation. We understand the point and our position is to abolish the smallest coins – at least 5 kopek or 10 kopek coins and smaller. It's up to the Parliament to adopt this or that decision, and of course we will fulfill it if they do.
What's your forecast for next year's inflation?
Inflation? I think we'll have it around ten percent.
About the crisis…
Sometimes a crisis is a good thing. I think it's globally stabilising, it's quite a good medicine against bubbles forming in commodity prices, in real estate prices, in stock indexes, and so on. I think now the era of bubbles is over. Probably for some time, or forever – I don't know, but now the situation is becoming healthier.
You can share this story on social media: