Rouble eases further, with prospect of more to come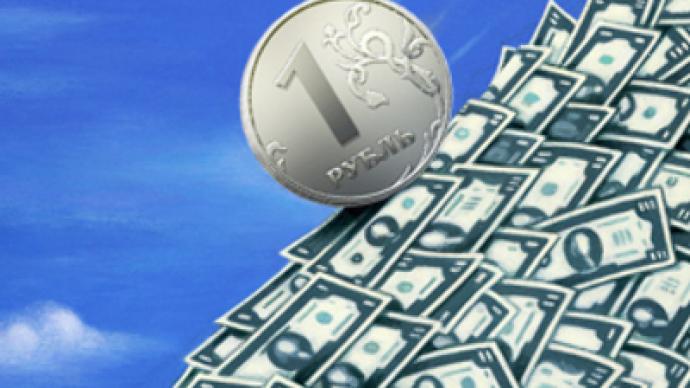 The Russian Rouble fell to its lowest level in six years against the dollar after the central bank devalued the currency for a second day. The government seems set to continue its policy of a controlled devaluation.
Russia's Central Bank has again widened the trading band of the Rouble against the dollar-euro bicurrency basket.
The Bank let the Rouble slide nearly 4% to 30 Roubles 53 kopecks per dollar on Monday. That's a fall of 1 Rouble 66 kopecks compared to the fixed rate for the holiday period from the 1st of January. The Euro, meanwhile, declined 30 kopecks or less than a percent. It's the 14th drop since controlled devaluation began on November 11th. Vladimir Tikhomirov, Chief Economist at UralSib, is expecting further easing.
"The Central Bank wants to bring the Rouble rate closer to the current state of Russia's trade balance, and the balance of inflows and outflows of capital from the country. The underlying reason here is obviously we have seen quite significant drops in commodity prices."
The Central Bank plans to continue its policy of gradual devaluation of the Rouble – which cost it $70 Billion in reserves in December alone.
It has also led to decreased confidence in the currency, and a squeeze on lending according to Oleg Zamulin, Professor, at the New Economic School, in Moscow
"It creates expectations of further devaluation and people expect the Rouble to fall. Therefore, they flee from the Rouble and start buying other currency. The banks don't give out loans in Roubles, and therefore this credit activity is pretty much shut out."
In real terms, the Rouble strengthened about 4.5% against Russia's major trading partners currencies in 2008. It fell 0.2% against the dollar, but rose 5.3% against the euro.
In the first month of 2009 – with credit markets in the U.S. and Europe sliding into recession – analysts predict the currency could dive 10 percent against the Euro-dollar currency basket.
You can share this story on social media: