Recycling in Russia lags behind rest of world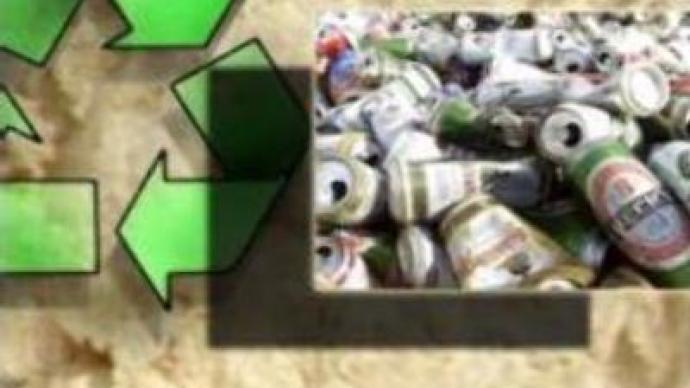 While developed countries compete to recycle the highest percentage of their waste, only about 3% of household waste in Russia is being recycled. Meanwhile, business in this sector could see high profits.
In Soviet times, large amounts of household waste was separated and collected by residents as well as by Pioneer youth groups.
'Since the 1970s we have had a history of recycling. Some recycling plants were modernised and still work successfully. Newcomers have entered the market. But if we talk about waste management, which means collecting and delivering waste to recyclers, we are somewhere closer to India,'
Aleksey Maslennikov, Editor in Chief of recyclers.ru Web portal, claims.The underdevelopment of this sector holds back the whole recycling industry. It's mostly industrial waste which finds its way to Russia's recycling conveyors. The mountain of household waste, however, is growing by 30 MLN tonnes annually, but only about 3% of it is being recycled. Given that record, it's perhaps surprising that Russia has about 14,000 recycling companies or plants around the country. Some of them inherited contracts from Soviet times, others started from scratch. The recycler Metallist works with plastic waste, producing polypropylene semi-finished products as well as end-products.
'This business is very technology-driven. We need to borrow a lot of experience from Western Europe. And not only experience. We are ready for co-operation – we can provide our premises and workers. We want to create a joint venture with some western European company,'
says Dmitry Strelkov, Metallist's Deputy Director General. He adds that with more investment the company will even be able to recycle Cola bottles into T-shirts. What works for a plastics factory near Moscow, however, may not work with paper or rubber recycling in Siberia. Analysts say the cost of collecting and transporting waste makes recycling unfeasible for some regions. As there's no shortage of land, it can be more effective to burn or bury it.Experts say, profitability, not Green ideas or politics, must drive the recycling business.
'In Europe, the Green movement pushed the idea of environmental protection and paid less attention to profitability. Fortunately, the EU recognized the problem and adopted technologies which don't just recycle products, but do it profitably. But I'm afraid the Green trend is coming to Russia now. Green movements promote the idea that the state has to care about recycling, which ends up with state subsidy. That's always a big mistake,'
Aleksey Maslennikov stresses. Recyclers say the government must base its rules on European experience. Laws like Germany's Duales System, which makes the producer responsible for recycling packaging, could motivate Russian companies to care about the quality and quantity of their waste. Those involved in recycling, say only when the government puts the burden on producers, Russia will start catching up with Europe's cleanest countries.
You can share this story on social media: