'System of world credit rating agencies needs to be changed'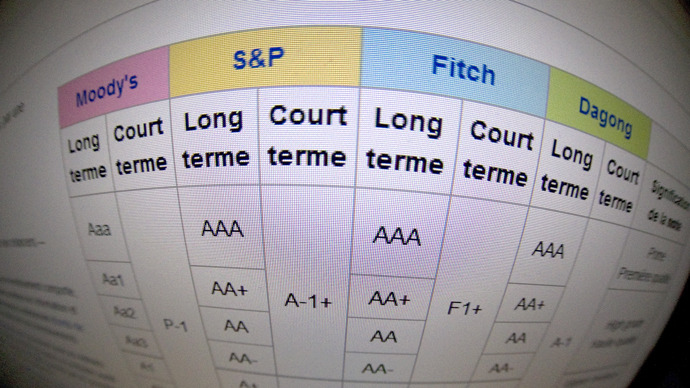 The Fitch credit ratings agency has downgraded the United Kingdom's level to AA+ due to gloomy economic and fiscal indicators.
Another similar agency from the 'Big Three', Moody's, also downgraded its forecast for the UK back in February.
The latest downfall comes as UK Chancellor George Osborne backed the government's austerity plan, saying it was "the right plan" and the economy was "healing".
"The UK has got so much spending going forward, but it has not got an ability to pay and therefore it will have to default in some way either  by devaluing  or not paying their bond," Richard Hainthworth, President the GlobalRating Group and General Director of RusRating agency told RT Business.

"The question is will they be able in two-three years to maintain  their austerity program in the face of increased public anger. And there are already indications that there is a certain amount of anger and it is not helped by the fact that big companies such as banks are paying their top management very large bonuses when ordinary people are suffering you don't expect top bankers to be getting very large bonuses."
The world needs to shift the parameters of the credit rating system and diversify the market for analysis, Mr. Hainthworth believes. 
"I think the credit rating system in the world is flawed. We have three big companies which have 98-99% of the market and all of them are based in one town, in New York. After all, a credit rating is an assessment of the future. Once you start making judgments, then you rely on the individuals. When you rely on the individuals, a lot depends on where they are. If they are in the United States, they have certain views about Europe, China, or Russia – Russia is communist and therefore there is something bad, China is even worse because there is still communism – and you get personal prejudices. What we need in the world now are different views because some people with a view from Asia-Pacific region or from the CIS view things in different way, we don't look at the world the same way and we can see strengths as well as weaknesses."
Hainthworth noted that by creating similar agencies in various regions of the world, businesses can get broader perspectives and reliable prejudice-free estimations.
"The system needs to be changed. There should be other points of view. Not just us [RusRating] but I believe its important there are another one or two new global agencies, which will be based in different parts of the world. We want to start one that is based in the BRICS countries using analysts and opinions from those places."

You can share this story on social media: