Interest rates in Russia to stay high as Central Bank fights inflation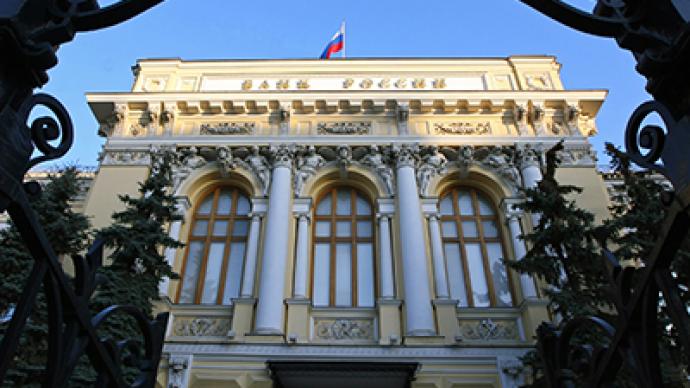 The Central Bank of Russia is between rock and a hard place, as high inflation is leaving no room to ease monetary policy. Both politicians and businessmen say interest rates should be lower to spur economic growth.
Russia's Deputy Prime Minister Igor Shuvalov says it is high time the Central Bank lowered rates. The key interest rate in Russia could be 1 point lower at 7.25% according to Shuvalov. Current Russian interest rates are detrimental to GDP growth the Sberbank CEO German Gref said in Davos in January. According to Gref, even with current inflation the Central Bank should be able to lower rates. The head of VTB Group Andrey Kostin also believes gradual easing of rates would stimulate economic growth in Russia, which has slowed following a fall in European demand for oil and gas.Last September the Central Bank raised all of its key interest rates by a quarter point to 8.25% in a move to tame inflation which stood at 6%. It was the first hike since December 2011.Inflation in Russia was 6.6% in 2012 and reached 7.1% in January 2013, while the target for the year is 5-6%. The main reasons behind the jump were higher food prices due to a poor harvest last year, and a planned rise in utility rates. At the same time Russia's GDP growth slowed in 4Q last year to 2.2% compared to 2.9% in 3Q. In 2012 the economy grew 3.4%, down from 4.3% in 2011. In other countries slowing growth is putting pressure on central banks to keep rates low, or cut them – as has been done in Brazil, India and China.The problem of high interest rates is obvious for the Russian government, large banks, and even for the Central Bank, the Minister of Economic Development Andrey Belousov told journalists last week. The high interest rates affect the investment dynamics, being on the level where they "effectively suppress investment activity of the companies," according to Belousov.However, Goldman Sachs experts do not expect that Russia's Central Bank will change interest rates at its next meeting on February 12, Finmarket reports on Wednesday. Besides the inflation figures they also point to January PMI in Russia, which continued to grow and according to HSBC is equivalent to GDP growth of 4%. "The rates will stay unchanged, and the government statements are just a message to manufacturers and companies to support their optimism," Natalia Orlova, chief economist at Alfa-Bank told Finmarket.On Tuesday the Central Bank of Russia said its decisions on monetary policy depend on the medium-term forecast on inflation. According to the Bank, lowering interest rates is possible if there is a rise in oil prices because of the fiscal cliff in the USA or recession in Europe, as an inflow of money into the economy from oil exports would lower inflation. But a weaker rouble could trigger higher inflation risks that could lead to a further short-term hike of interest rates. However, the Central Bank does not expect a significant weakening of the rouble, nor a hike in world food prices – also one of the main inflation risks. Deputy CEO of the Central Bank of Russia Aleksey Ulyukaev said in Davos that there is no point using fiscal and monetary stimulation in the economy, as the current level of growth more or less matches the economy's potential. That means the Central Bank can't actually do much by cutting rates. Monetary regulation is used by central banks all over the world to influence the economy: lower interest rates stimulate economy growth while higher rates reduce inflation. "Inflation growth makes it less possible that the Central Bank will ease monetary policy in February and even later. However, we expect the inflation forecast will be better by the end of 2Q and by the end of the year the Central Bank might agree to lower key interest rate down by 0.50 points," Dmitry Polevoy from ING bank said, as quoted by Finmarket.Natalia Orlova, chief economist at Alfa-Bank believes there are arguments for decreasing rates, but the arguments for increasing are stronger."I believe the rates should increase. Manufacturing is not getting more efficient, capital outflow continues, inflation is not slowing. Basel 3 is introduced this year which means that banks will not be able to increase credit at the same pace. There will be a radical cut of budget spending in 2013. All this paves the way for an increase in interest rates. If the Central Bank eases policy and lowers rates capital outflow will speed up," Orlova said.Russia's financial regulator gradually lowered interest rates to the historical low of 7.75% in 2010, but in 2011 it increased the rate several times up to 8%. Last September the Central Bank raised all of its key interest rates by a quarter point to 8.25% in a move to tame inflation which stood at 6%. The Russian maximum key interest rate of 210% was in force from October 15, 1993, till April 28, 1994.
You can share this story on social media: