Putin had 'mixed feelings' on plan for Rosneft buyout of TNK-BP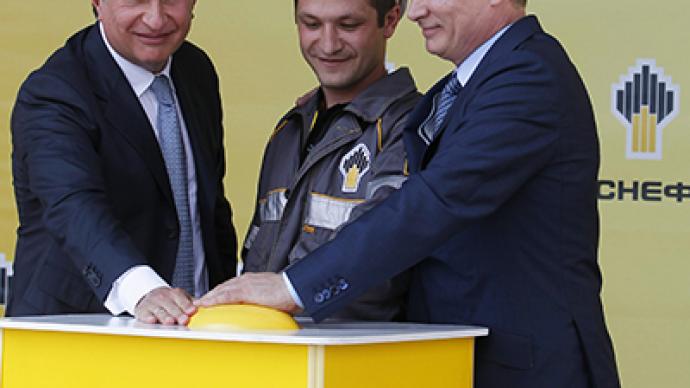 Russian President Vladimir Putin said he had "mixed feelings" when the idea of Rosneft's buyout of TNK-BP was first announced, as it contradicted plans to reduce state participation in the Russian economy.
"Why did I have this mixed feeling? The argument against was that the state-owned company would boost its market share with the use of a foreign partner," Putin explained. "There were concerns that another part of TNK-BP also would be accused by the state company. It bucks our policy to limit the state's role in the economy".However, the authorities approved the purchase of British Petroleum's stake in TNK-BP by Rosneft in order to resolve the UK company from the conflict with the AAR consortium of billionaires, he explained."When BP's management came to me and said that they would like to cooperate with Rosneft, we couldn't say no," Putin said during a meeting with the participants of the Valdai international discussion club, stressing that otherwise it would have looked like they had abandoned BP to AAR who they were at odds with.Meanwhile the decision to sell AAR consortium's stake in TNK-BP to Rosneft was made by Russian shareholders, Putin pointed out. "They expressed the intention to also sell their part," he said.On Monday BP said it agreed to sell its 50% stake in TNK-BP to Rosneft for a mix of $17.1 billion in cash and 12.84 % of Rosneft. The British company is also planning to use some of the money it's reaped from the sale to raise its stake in Rosneft to 19.75%. Such a stake gives BP the right to claim a share of Rosneft's earnings, as well as production and reserves. Earlier Rosneft bought the other 50% for $28 billion from AAR.A representative of BP on Rosneft's Board of Directors will improve transparency of the Russian oil major, according to Putin.  "If a representative of a major shareholder joins the board, it will boost transparency of our largest oil company," he said.The acquisition of TNK-BP would make the Russian state-owned enterprise the world's biggest listed oil company.