Vladimir Putin: Kudrin remains on my team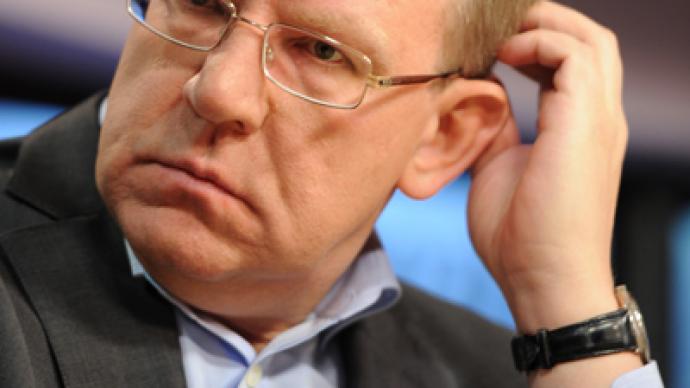 PM Vladimir Putin says he was proud to have such a professional as Aleksey Kudrin as a Finance Minister. He was answering questions about whether Kudrin would join the PM's team should he become President during his annual session with the people.
"Aleksey Kudrin has gone nowhere from my team. He's my old and good companion, and I'd say more, he's my friend," said Vladimir Putin.The Prime Minister stressed that despite some disagreements with Kudrin, they agree on basic issues."This happens in the Government driven by a number of factors," Putin said. "But he hasn't gone away too far from us," he added.The former Finance Minister has yet to make his mind up concerning support for any of the candidates for the Presidency. "I would leave this question open," Kudrin says. "The United Russia programme presented during the last elections wasn't tackling the challenges the country was facing."Aleksey Kudrin was the head of Russia's Finance Ministry for the last 11 years, and this September said he didn't want to join a Government with Dmitry Medvedev as Prime Minister, which could happen after the Presidential elections in March.Kudrin says he couldn't agree with Medvedev' economic policy, particularly the plan for "significant military expenses."The Ex- Finance Minister has been praised for his strict controls over the budget. "A disciplined treasurer," as Boris Titov, chairman of the Delovaya Rossiya (Business Russia) called Kudrin.However, Titov was basically criticizing Kudrin and blamed him for a protecting the oligarchs, as well as strengthening Russia's commodity dependence."He had about 40 – 50 companies that he was controlling almost single handedly. And those were bringing oil revenues for the budget," Titov said.Distribution controls, rather than development of the new revenues flows, was always Kudrin's focus, Titov said. This made him unpopular among some Russian businessmen, who were almost stifled with all sorts of taxes and administrative barriers, the expert concluded.