Putin China visit delivers business outcomes
Published time: 11 Oct, 2011 12:53
Edited time: 11 Oct, 2011 17:50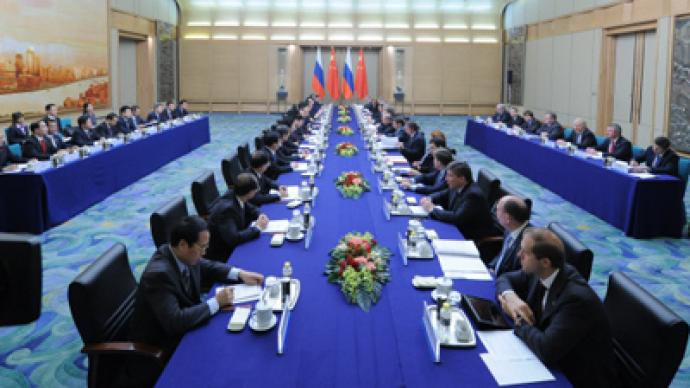 Russian Prime minister, Vladimir Putin, with a delegation of Ministers and top Russian corporate representatives have concluded a range of agreements with Chinese counterparts which will boost economic ties between Russia and China.
Baikal Mining Company (BMC), a subsidiary of the Metalloinvest group, announced a joint cooperation with the Industrial and Commercial Bank of China Limited (ICBC) in developing of the mining project at one of the world's biggest copper field -Udokan, containing 1.375 billion tonnes of ore and19.95 million tonnes of copper.
CBC plans to provide a loan for financing the BMC project while BMC in turn will consider the possibility of Chinese equipment suppliers recommended by ICBC participating in the project. The deal parameters will be specified as soon as the feasibility study is prepared with plans to begin the preparation till the end of 2011.
The company expects that export credit agencies, international and Russian commercial banks will also be interested in financing the project, in addition to Russia's Vnesheconombank (VEB). The bank has approved a $3 billion loan on commercial project financing including special conditions under which VEB Engineering will be involved in assessment, structuring and support for the project,aswell as the development of optimal arrangements for VEB financing.
Among the top important agreements involving Chinese and Russian industrial and financial giants the agreement between China Development Bank and Vnesheconombank (VEB) has seen the approval of a loan to start aluminum production at Rusal's Taishet Aluminum Smelter plant.
Vladimir Dmitriyev, VEB Chairman, confirmed the deal, saying that about $1.5 billion in financing will follow.
"The memorandum between Chinese Development Bank and VEB will be signed during the Russian delegation China visit. The preliminary agreement has been reached with Chinese Development bank approving a $1.5 billion loan to launch the first section of UC Rusal Taishet Aluminum Smelter"
Rusal previously outlined plans to resume construction of the Taishet aluminum plant, for production by the end of 2013. The initial capacity of the plant expected to be 375 thousand tonnes of aluminum per year, the total capacity of the plant as planned will be 750.000 tonnes per year. Rusal has already invested $585 million in Taishet plant construction.
The most significant agreement concerning gas pricing between China and Russia has also been reached. Gazprom and Chinese national oil and gas company CNPC have often reported progress in talks on the price that have spanned more than five years already.
Alexei Maslov, the Head of the Center for Strategic Studies of China, witnessing the negotiations, said the decision will be taken on the state level.
"Russia insists that the price of oil should be the same regardless of where it comes, China has another position. This issue will be addressed at the prime minister's level"
Deputy Prime Minister, Igor Sechin, representing Russia in these negotiations has told journalist that both sides are interested in favorable outcome of negotiations with core issues have been finalized
"We've made significant progress with the pricing parameters. Everything has been settled.The agreement has been reached that allows for the complete removal of all claims between the parties – on the one hand claims for different coefficients, on the other hand – on payment. There is no reason to rush at this point. The roadmap would be specified in the next two weeks along with an analysis of the consumption balance, supply sources and Gazprom's place in the supply structure."
Sechin added that a new agreement clarifying contract conditions will be signed in a few days to close the issue
"The debt will be paid off in accordance with documents that the participants of this cooperation will sign in the next few days. Agreement will be finalized as such at the corporate level. The issue has been taken off the agenda"