Russia's most powerful women in business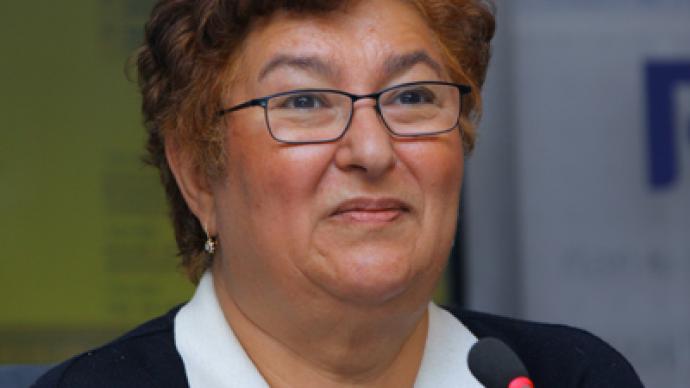 They are the leaders of a new class of ambitious Russian women, breaking into the macho world of post-Soviet business.
They haven't got the top places in a list of Russia's 100 most influential women – which is headed by politician Valentina Matvienko and singer Alla Pugacheva,  – but the women from the business world who got into the top hundred can be easily called the mighty queens of their industries.The list, compiled by the leading Russian news agencies , RIA and Interfax, along with radio station Echo Moscow and Ogonek magazine, includes bankers Bella Zlatkis (ranking 37) and  Olga Dergunova (39), airline head Olga Pleshakova (46), Elena Baturina (55), who deals in construction, and Natalya Kaspersky (66), who started an international IT company.
Bella Zlatkis – Deputy Chairwoman of Sberbank, Chairwoman of MICEX and the National Settlement Depository.As a youngster Bella Zlatkis wanted to study together with her twin sister – to become a physicist, but was persuaded by her parents to study economics instead. Since then she's been one of the key figures in Russia's world of finance. During her working life she's been with just two organisations. Starting from 1970 she spent 34 years at the Ministry of Finance, and then in 2004 moved to Russia's biggest bank Sberbank. She only takes one day off a week, and says that is always devoted to keeping her family happy. Her husband has always believed her main duty was weeding their vegetable garden. Now only roses grow at their country house and he doesn't approve because they are inedible. She also used to be a pro on making pickled vegetables – so there was no question what to serve when foreign guests are at the table. However pickles were never in her way when it came to work – Honoured Economist of the Russian Federation with several state awards, she stood at the root of creating Russia's financial system after the Soviet Union collapsed.
Olga Dergunova – Member of VTB Bank Management BoardShe used to be regional chair of Microsoft Russia and CIS, responsible for its $100 million operations across the country's nine time zones. The Wall Street Journal Europe placed her among the 25 most influential businesswomen in Europe. She was hired by Microsoft in 1994, soon after it founded a subsidiary in Moscow, and Olga Dergunova became its 13th employee. A year later the 'unlucky number' was promoted to be general director of the company and in July 2004 became its chair. In her own words, she was putting together the "elite business special task force" of the IT industry in Russia. So it came as a huge surprise to everyone when after 15 years with the company she switched to VTB in 2007. Her previous life had been connected to IT – and suddenly – a state bank came into the picture. She started her banking career right in the beginning of the global financial crisis – it seemed reforming a bank at such a time would have been a nightmare but she's never abandoned her optimistic take on things. By the time she took up her new job her whole family was already working in banking – so her daughter taught her the formulas and her husband explained the terms. One evening soon after she left Miscrosoft her household asked if she'd be offended if they ever betrayed Microsoft – Dergunova only laughed. That's how the family switched to Apple with its Ipods and IMacs. One of Russia's top managers has been married for 20 years – they tied the knot when they were students and soon had their first and only daughter. She says her only duty at home is feeding two fat and arrogant cats, and should her daughter have a child of her own some day, Dergunova reckons she will make a wonderful grandmother: 'I don't know how to cook, sew or knit. But I will teach the grandkid how to play golf, read, work on the computer and make the best use of their time.'
Olga Pleshakova – General Director, Transaero Airlines In 2001 Olga Pleshakova became the first woman to head a Russian airline. "Nowadays no one gets surprised, – she says – but 10 years ago Russian civil aviation was a purely male sphere and my appointment came as a shock to the market. I have to admit my pilots still don't want any female pilots on their team… they are very superstitious," she told Russian Forbes. Olga Pleshakova's background lies with the Moscow Aviation Institute so it seemed only logical she went through all the steps of the career ladder. However no one expected her appointment in 2001 to become such a success: within 10 years of her appointment as DG, the number of passengers using Transaero grew 17-fold, revenues – 27-fold and more than 100 flights – both domestic and international – were added to the company's routes. In 2007 it became the second largest airline in Russia and still remains an important player, despite the problems the company has experienced in the past few years. Some say, having a husband – Alexander Pleshakov – found the company and chair the board of directors – helps. As well as having a mother-in-law who's heading the Interstate Aviation Committee. However Pleshakova says she doesn't work WITH her husband: "I simply work in a company where my husband is the head of the board. We've known each other for 30 years – since school – and 25 of them we've been married. The most responsible moment is to switch into work or home "mode".  Olga and Alexander have two daughters and say they've never been deprived of their parents' attention.
Elena Baturina – former owner of Inteco, wife of the ex-Mayor of Moscow Yuri Luzhkov.Her business empire grew out of the production of plastic washbowls and toilet brushes – to become the largest construction company in Moscow producing prefab housing. In 2010 she ranked the third richest woman in the world with a fortune estimated at 2.9 billion dollars. One of Russia's few female industrialists; she's been Russia's wealthiest woman for a long time (her fortune peaked in 2008 at an estimated $4.2bln according to Forbes). Now Elena Baturina lives in exile in London. She's sought by a Moscow court as a witness in a corruption case – Baturina claims she would happily testify and is ready to come back to Russia as soon as she receives an official invitation for questioning. However her husband, the once almighty Moscow Mayor Yuri Luzhkov is against her returning to Russia. Last year he was ousted from his job after running the capital for 18 years. He fears she'd get arrested and leave their two daughters, who are now living and studying in London, without her motherly care. Baturina met her future husband in 1987 when they both served on a municipal commission. In 1991 she married Luzhkov and the same year she founded Inteko, which used to produce plastic goods, including furniture and crockery but has since expanded into construction and construction materials. The fortunes of a one-time factory worker soared – she was winning huge contracts in Moscow and soon became a billionaire and a power broker.  After Luzhkov's resignation Baturina started selling off her assets in Russia. In September 2011 she sold her main Russian business Inteco for about $1.2bln, followed soon by the sale of a cement plant in Southern Russia. Now she's busy eyeing foreign assets, while her business transcends all the borders – an office in Austria, business in Slovakia, Morocco and Kazakhstan, a hotel in the Czech Republic. Throughout her career she's often been accused of abusing her family links. However she's always denied it. In a recent interview to Rain TV she said," If I worked in Moscow and my husband wasn't Mayor, I would have worked much tougher, more recklessly, without looking back! "
Natalya Kaspersky – Director General, InfoWatch Natalya Kaspersky also has a 'husband-factor' in her career. However if her husband Evgeny Kaspersky wrote/developed/created the anti-virus software and provided technical expertise, his ex-wife supplied the business acumen. She first worked at the KAMI Information Technologies Centre, and in 1997 that was turned into Kaspersky Lab. Natalya co-founded the company and became its first CEO. In 2007 she relinquished the role of chief executive to become chairman – and at the same time assumed the CEO position at InfoWatch, a Kaspersky sister company, established in 2003. The company's goal is to keep computers and data safe, by detecting information leakage and preventing it. She never thought that's what she would be doing as a grown up. "As a child I loved animals and seriously dreamt of becoming a pet vet. However when I grew older I had problems with chemistry at school – there were insurmountable. So I had no other alternative but to follow in my parents' footsteps and become a "technician," she shared in her recent interview with Voice of Russia.Her business status has never got in the way of family life. She has 2 sons from her first marriage with Evgeny Kaspersky. Working side by side, put a strain on the marriage and they divorced in 1998. Since then Natalia married again and had another two children. In 2011 her life took a dramatic turn when her 20-year old son was kidnapped on the way to his work experience job at InfoWatch. Her ex-husband's fortune was estimated at 800 million dollars at the time. The story had a happy ending, and now Natalia impresses everyone with her four children and a continuously successful career.
You can share this story on social media: