PM points to upped competitiveness and saved banks thanks to State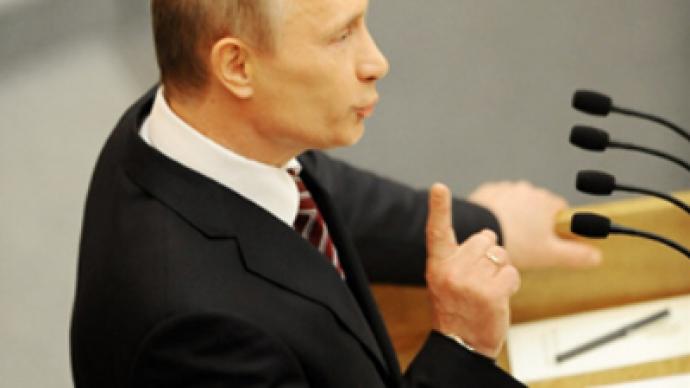 Russia will overcome the financial crisis and hold on to its position as one of the world's leading economies according to Prime Minister Vladimir Putin, speaking to the Duma on Monday.
The Prime Minister called for coordinated efforts, stressing the nation's problems cannot be solved in one stroke. He said the government is planning to spend $90 billion dollars on stimulus measures for the economy this year.
Putin also claimed the government had succeeded in managing the process of Rouble devaluation and prevented a collapse of the currency.
"Uncontrolled devaluation was prevented. A contraction of the national currency is unavoidable in the current conditions. As we had promised the decrease was smooth, which helped the economy and citizens adapt to the new reality.
Despite that, the current rate for the Rouble is definitely improving the competitiveness of Russian producers in foreign, and more importantly, in domestic markets."
Putin also outlined the government's assistance to the banking sector, claiming it was getting easier to find credit thanks to the state's support for the sector.
"The threat of the banking system's collapse has retreated. But at a certain point it was on the doorstep, it was quite real. Moreover, the banks that received support for 5 months of the crisis were able to increase financing of the private sector by 15%. They issued more than 1 trillion rubles in loans. In the meantime, other banking institutions, which received no government support, increased lending by a mere seven percent. On the average we have nine percent. That's an unprecedented thing in the world economy, crediting has been growing at a high pace. But the government has not given any gifts to anybody."

After Russia posted inflation of 1.3% in March, bringing it to 5.4% for the first quarter according to the Federal Statistics Service, Prime Minister Putin acknowledged that inflation was a major problem, with the government forecasting it will come in at 13% for 2009. But he added that the government expects the inflation rate to be halved in 3 years.
"The Ministry of Economic Development has made a project forecast according to which Russia is supposed to bring inflation down to 8%. We will try to do that earlier. And that is a serious factor in the fight against rising prices. Then we will have to take a serious approach to many questions, including budget expenses."



You can share this story on social media: