Four Latin American countries agree $85 bn free-trade deal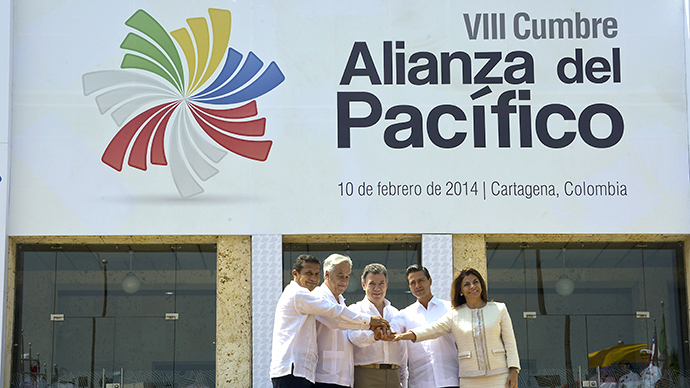 Chile, Colombia, Peru and Mexico have signed a treaty to eliminate tariffs on 92 percent of goods and services. The Pacific Alliance is free trade area of some 210 million people, accounting for more than a third of all Latin American and Caribbean GDP.
The move is a big step towards strengthening the countries' position alongside the strong neighboring trade pact – Mercosur - which includes Argentina, Brazil, Paraguay, Uruguay and Venezuela.
"This translates into more investment, more competitiveness and as a consequence, more employment, and good quality employment. This is the fundamental purpose of this whole exercise," the Wall Street Journal quotes Colombia's President Juan Manuel Santos.
Morgan Stanley estimates an average 4.25 percent growth for the new alliance this year, or about $85 billion. At the same time many economists forecast a shrinking Venezuelan economy, weak 2 percent growth for Brazil, along with Argentina falling into recession.
Besides establishing strong economic connections, the deal will also create a fund to finance infrastructure investment and a medicines price monitoring and leverage system.
The Pacific Alliance, founded in June 2012, has set a vital goal to increase trade with fast-growing Asian nations. Accounting for 50 percent of the population of Latin America the union is ready for further expansion. Costa Rica applied for membership at the VIII Summit of the Pacific Alliance. Panama and Guatemala have also expressed interest in becoming members.
You can share this story on social media: