Concerns over prices as EU oil embargo to come into force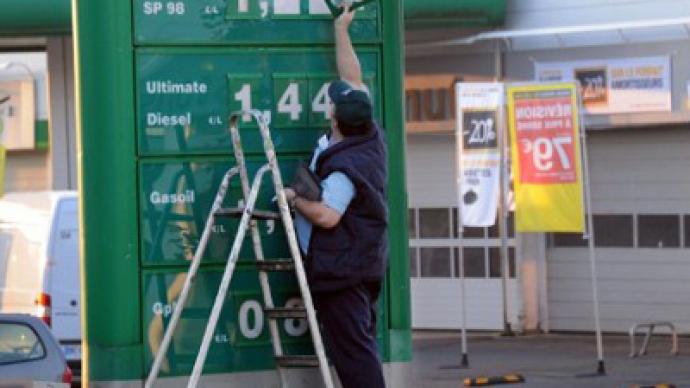 Experts are cautious about a new embargo of Iranian oil, as it could lead to significant oil prices raise in a long term, but short-term consequences are likely to be modest.
"There're no significant changes on the market right now", says Sergey Vakhrameev from the Metropol invest company. The embargo will take full force in five months, on July 1."In the long-term it would depend on the situation, if Iran would block the Straits of Hormuz, prices would be up to $130-140, if a war begins they would jump to $200", says Mr Vakhrameev. "Oil prices are excessive due to the geopolitical risks. As the situation in the Middle East stabilizes, they would fall".Meanwhile some analysts suppose, the embargo is likely to do far more damaging to European nations than it would ever be to Iran. The EU imported 600,000 barrels of Iranian oil per day in the first 10 months last year, making it a key market alongside India and China. They refused to support pressure from the US to join the embargo. Iranian oil accouns for 34.2 percent of Greek oil imports, 15 percent of Spain's and 12.4 percent of Italy's in the first nine months of last year, according to the latest EU statistics.Greece has been holding up the deal on the timing and conditions of the oil embargo. Britain, France and Germany called for a three-month deadline, whereas Greece requested up to a year. But some experts suppose Europe won't be hit very much. "Demand for oil in the EU is expected to decrease 10% due to the recession, some countries could face negative growth in the first half of 2012", said Mr Vakhrameev.The EU is already looking for new suppliers as negotiations with Saudi Arabia and Kuwait are underway and hopes are high that Libya can soon increase its production. But experts say, it will be more difficult for Greece, Spain and Italy to find alternative suppliers because of the present financial situation.Italy has also requested to allow Iranian companies to continue repaying debts with crude instead of cash. Iranian owes the Italian energy company ENI 2.6 billion Euros for upstream production work. Germany has expressed concern over Iran's capability to refund loans should financial channels be closed.As for Russia, analysts predict the growth of oil prices would be a positive factor for country's economy in the short term. "The danger is, that the state budget would increase with high oil prices, but sooner or later oil prices would inevitably sink", warned Mr Vakhrameev.
You can share this story on social media: