OEСD slashes global forecast, warns of global slowdown
Published time: 27 Nov, 2012 12:37
Edited time: 27 Nov, 2012 16:37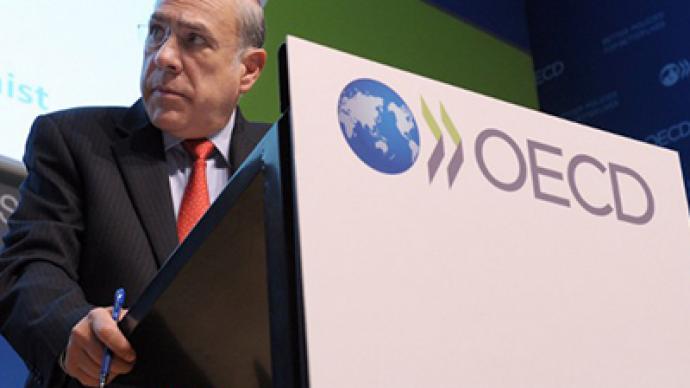 The world's advanced economies will grow much slower in 2013, while the risk of a new global recession still remains, according to the Organization for Economic Cooperation and Development (OECD).
­In its economic forecast published on Tuesday, the OECD said it expects the growth of the 34 wealthiest economies will slow down to 1.4% next year, compared to 2.2% expected in May.

"Over the recent past, signs of emergence from the crisis have more than once given way to a renewed slowdown or even a double-dip recession in some countries," said Pier Carlo Padoan, OECD chief economist. "The risk of a major contraction cannot be ruled out."

The eurozone economy is "projected to remain in or near recession until well into 2013," the report said, warning that the currency bloc "could be in danger" if the region's policy makers fail to advance with reforms. "A complete bank union is needed for the long term; direct ESM injections into banks are necessary in the short term," it said.
Greece would see its economy to shrink 4.5% next year – the worst forecast among the currency block.

Meanwhile Germany's economy will grow by 0.6% in 2013 amid strong domestic demand and easy credit, the OECD said on Tuesday. However, the forecast for German growth was slashed from 2%, predicted in May, due to the euro crisis risks. The German government has also cut its 2013 growth forecast to 1% from 1.6% on the same reasons.
Growth in the US is estimated to be at 2% next year, down from a May estimate of 2.6%, according to the OECD. The organization has also expressed concerns about the US fiscal cliff of tax hikes and spending cuts due in early 2013.
"Economic prospects are very uncertain and highly dependent on the risks associated with the nature and timing of policy decisions related to the euro area crisis, (and) the US fiscal cliff," the OECD said. The think-tank called Washington to implement tax tightening gradually in order to preserve growth.
For Japan, the GDP is now expected to expand by 0.7% next year, down from 1.5% expected in May.
The organization has called on some central banks, including those in China and India, to provide ease monetary policy to sustain economic growth. Neither China, nor India is a member of the OECD.

"Additional [monetary] easing is required in the euro area, Japan and some emerging market economies, including China and India," the report said. "If serious downside risks were to materialise, further policy support would be essential."