Safe from shutdown: Obama signs trillion-dollar budget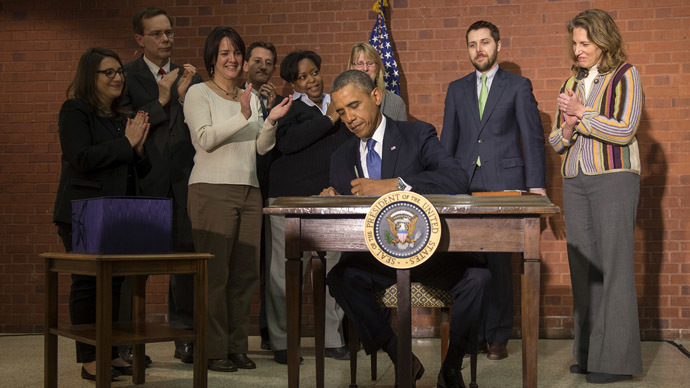 President Barack Obama has signed a $1.1 trillion spending package that will fund the US federal government until September. In contrast to during October's shutdown, the bill received unprecedented bipartisan support in both houses of Congress.
The giant 1,582 page-long enacted federal budget bill has put an end to the threat of another government shutdown similar to the 16-day-long one that took place in October, when over 800,000 employees of state were furloughed while other 1.3 million had to work without knowing when they would be paid.
The House of Representatives voted overwhelmingly in favor of the massive bill Wednesday, approving the budget with a strong majority of 359 to 67. The Senate took up the lead Thursday, supporting the bill by 72 to 26. Obama signed the bill into law Friday.
"Goodness gracious – that is a big piece of business. That is a big bill," Obama said after looking at a massive blue box containing the document.
"Across the board, our government is going to be operating without, hopefully, too many glitches over the next year," Obama said at the signing ceremony, thanking everyone who made it possible to pass the bill through in such a short time.
The new budget's passage was engineered as a result of multiple compromises between the Republicans and the Democrats, with each party gaining something in return for giving something up.
The bill ensures funding of every federal agency and scales back the sequester that seriously affected the Pentagon and some major domestic programs last year.
Though the new budget brings less spending than President Obama had proposed, it nevertheless amounted to larger funding than the Republicans were insisting on.
The Democrats' major gain was the continuation of funding for the president's signature Obamacare health program, pushed through together with increasing spending on the Head Start Program supporting children from low-income families and some mental health programs.
Republicans insisted on further budget cuts for the US Internal Revenue Service, the government agency uniting tax collection and tax law enforcement services, and the Environmental Protection Agency.
Budget cuts will continue for the Department of Education, Department of Housing and Urban Development, Department of Labor, as well as the Transportation Security Administration, however.
Meanwhile, funding will be increased for the Social Security Administration, Centers for Disease Control and the National Institutes of Health.
Also, the funding will be increased or the cuts will be reversed for the FBI, the Army Corps of Engineers and all cyber security programs. The Pentagon will avoid a roughly $20 billion cut.
The new budget supposes freezes for many top government salaries, including that of the vice president.
The bill brings good news for disabled veterans and certain veteran's families, who will be saved from pension cuts – the fate awaiting younger military retirees.
You can share this story on social media: