Norilsk dispute drifts towards high noon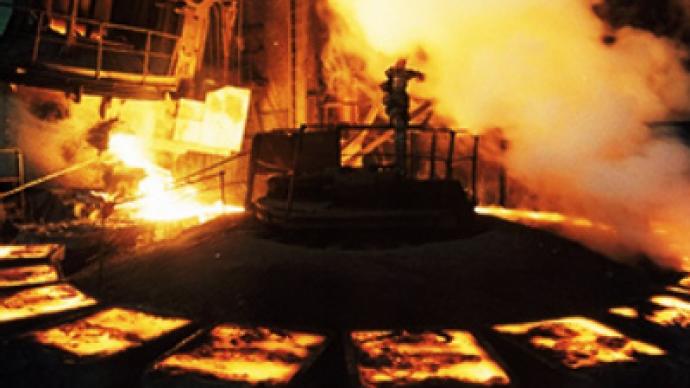 Norilsk Nickel, subject of a shareholder dispute between Vladimir Potanin's Interros and Oleg Deripaska's Rusal, says it is ready to participate in a buyout in a buyout of Rusal's stake.
Norilsk Nickel's CEO, Vladimir Strzhalkovsky, told journalists on Thursday that Norilsk management, which has been, criticized by Rusal for being too close to Interros, would consider taking part in a buyout of Rusal's stake, but wasn't currently preparing to.
"If there is an idea for forming an investor pool we will consider actively participating. However, we so far are not doing anything in this direction."
The comments came after Interros proposed that it could buy out Rusal's stake earlier this week, and Rusal proposed that it could buy out Interros' stake last week. Both companies have issued statement denying that they are proposing to sell.
Norilsk has indicated that it could easily raise the money to buy out Rusal's stake, but Rusal has issued a statement saying Norilsk can't use its balance sheet to buy out investors and that hareholders, rather than management, should decide on the use of the company's cash.
Unicredit securities analyst Marat Gabitov say at its core the dispute revolves around control of Norilsk and the diverging interests of Rusal and Interros
"Rusal and Interros both want to have a total control on MMC Norilsky Nickel. However, Rusal seeks to cover its current debts with the dividends from shares and increase the revenue of Norilsk for a further merger operation. Interros on the contrary wants to have total control on the financial operations of Norilsk and use them in the companies investment projects. Interros doesn't want Rusal to strengthen its positions and seeks other possible ways to pay off the interest on Rusal shares or exclude Rusal from the decision making."
The disintegration of the relationship between the Rusal and Interros holdings in Norilsk has burst into the open since the June 28 AGM held a vote which saw Rusal, which holds a 25.13% stake in the company, lose one seat in a new board of directors to be left with three representatives, including Oleg Deripaska, as Interros, which holds 25.001% of its shares, was left with 4 board seats, joining 3 independent directors. Amongst the Rusal candidates who missed out on a board position were former Russian Presidential Chief of Staff, Alexander Voloshin, and Dmitry Razumov, director general of Onexim, and former part owner of Norilsk. Voloshin, who had been Chairman of the previous Board, declined to sign the meeting protocol, which Norilsk says could prevent it from paying dividends.
The aftermath of the AGM vote has seen Rusal accuse Norilsk of voting irregularities, and call for a new vote, while also suggesting that the 8% of itself that Norilsk owns through subsidiaries voted with Interros. Rusal has also claimed that Norilsk management is too close to Interros according to Investkafe analyst Georgy Voronkov.
"Rusal insists on checking not only the voting results, but also on the analysis of transactions between Norilsk Nickel and Interros. Rusal claims the redemption of shares in Rusia Petroleum by the subsidiary company of Norilsk from the Interros group was inappropriate as well as the approval of the credit given to the Interros group by the Norilsk."
Oleg Petropavlovsky, analyst at BKS believes it is quite possible that Interros either bought more shares, or that Norilsk management voted with Interros, to prevent Rusal from getting the additional board seat.
"Possibly Interros purchased additional shares from other minority shareholders as there are enough foreign investors who would not mind selling their minor shares. Also, we know that Norilsk has an 8.5% of its shares on the offshore account which are nominally their property however, being accounted on a separate balance. The senior Norilsk management could use these shares to vote for Interros members."
Norilsk has denied all accusation of impropriety, and called for shareholders to approve publication of the voting papers, and commit to providing copies of the documentation involved, which runs to thirty thousand pages, as soon as possible. Its statement made reference to 'spurious' interpretations of the voting process.
This week has seen Norilsk terminate the appointment of Oleg Surikov, a board member and head of the corporate department, and replace him with Alexei Malov, and appoint Andrei Klishas, a senior Interros manager, to become Norilsk's president – a newly created position responsible for Norilsk's corporate strategy, improvement of corporate management, measures aimed at increasing the company's capitalisation, possible mergers and acquisitions.
The shareholder dispute has drawn government attention with President Medvedev believed to have asked the prosecutors general department to report on what the issues were and to see if a resolution could be found. Subsequent press reports have speculated that the government wants a third party, but not the government, to intervene to resolve the dispute, with Russian Technologies and Metalloinvest, being referred to.
You can share this story on social media: