Norilsk sells 8% stake to Trafigura
Published time: 21 Dec, 2010 10:14
Edited time: 21 Dec, 2010 14:20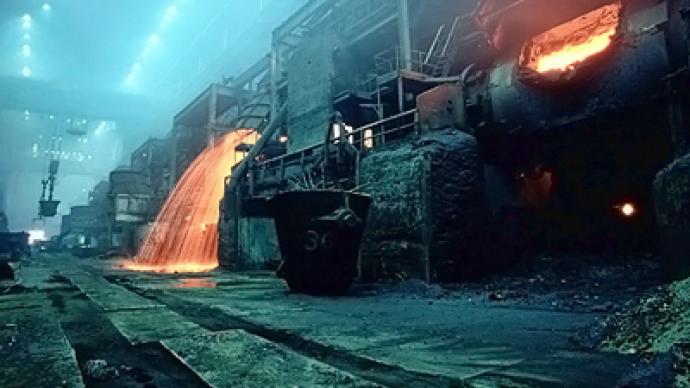 Norilsk Nickel has agreed to sell an 8% stake in itself currently held by its subsidiaries in the form of ADR's to commodities trader Trafigura Beheer BV.
According to an announcement on its website the move will strengthen ties between the two.
"The sale further strengthens the relationship between MMC Norilsk Nickel and Trafigura. Trafigura is the world's largest independent oil trader and the second largest independent trader of non-ferrous metal."
Norilsk's shares traded at around 6,680 rubles on the MICEXstock exchange on Monday, valuing the 8% at $3.3 billion, with LSE quotation reaching $3.5 billon.
Norilsk Nickel said the move would realize a substantial gain which could be put to other uses.
"The sale has allowed MMC Norilsk Nickel to realize a substantial gain on investments in MMC Norilsk Nickel securities. The proceeds from the sale will be used for general corporate purposes."
Norilsk also said it understood that Trafigura didn't intend to increase itsstake in Norilsk Nickelto over 10%, whichwould require an application for approval under the Russian Strategic Investment Law.
Major Norilsk shareholder, Rusal, which has been involved in a long running shareholder dispute with Norilsk management and rival shareholder Interros, and rejected a proposal by Norilsk to buy out its 25% stake last week was supportive of the move but criticized what it saw as a lack of consultation, and discussion at Norilsk board level.It also noted that Trafigura is a competitor of Norilsk and the lack of clarity over what the proceeds of the move will be directed towards.
"We are not familiar with the terms and conditions of this deal as long as it has not been discussed at the meeting of the Board of Directors of Norilsk Nickel. We do believe that the sale of quasi-treasury shares is positive for the company, because in fact, it is a spin-off of a non-core asset. However, we are concerned that an asset worth over USD3.5 billion was monetized without discussion and voting at the Board of Directors of Norilsk Nickel. Moreover, the stake was sold to 'Trafigura', a company which is a direct competitor of Norilsk Nickel for marketing and sales of its metals. It is also unclear how MMC will use the funds received from the sale of this stake."
According to the group of Troika Dialog analysts, including Mikhail Stiskin, Sergey Donskoy, Irina Lapshina and Zaurbek Zhunisov, Norilsk Nickel was most likely accumulating cash for a further attempt to buy out Rusal.
"The key question is obviously why the management would pursue such a transaction, and one of the potential explanations could be the accumulation of cash ahead of a potential buyout of UC RUSAL's 25% stake in the company. Norilsk Nickel just recently disposed of its controlling stake in Stillwater Mining Company for $970 mln, and its year-end net cash position (excluding OGK-3) should now total at least $3.5-4.0 bln. Norilsk Nickel just recently made an offer to UC RUSAL to buy out its stake for $12.0 bln, or $25.00 per GDR, and we expect this offer to be rejected. Though the conflict has clearly morphed from a business confrontation into a personal one and UC RUSAL will first exhaust all means of taking over control at Norilsk Nickel, should Norilsk Nickel seriously sweeten the terms of the offer the aluminum giant could find it too hard to resist.
We believe that the cash raised by Norilsk Nickel is unlikely to be distributed as lavish dividends since the management/Interros would strive to avoid helping the cash-strapped UC RUSAL. The funds raised could also be mobilized for M&A or buybacks in the future. We reiterate that UC RUSAL, in our view, is a net beneficiary of any conflict resolution and should its stake be bought out (at a premium) this would generate strong upside."