Norilsk management ups Rusal pressure on share buyout
Published time: 28 Dec, 2010 09:23
Edited time: 28 Dec, 2010 15:28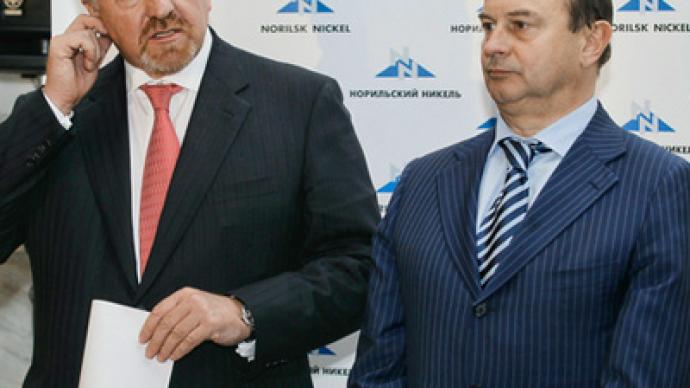 Norilsk management has issued a statement reaffirming its proposal to buy out the 25% stake in the company owned by Rusal, threatening a general share buyback and stating it is prepared to move on price.
In a statement released on December 27 the company noted that two Rusal directors, magnate Viktor Vekeslberg and former Norilsk co-owner Mikhail Prokhorov, were believed to be in favour of Rusal selling out to Norilsk and said that it was prepared to move on price.
"We are aware that the transaction is supported by two UC Rusal shareholders – M.D. Prokhorov and V.F. Vekselberg. The management of MMC Norilsk Nickel in its turn is ready to negotiate potential enhancements of the offer price. At the same time, however, all parties should understand that the final transaction price can not exceed the maximum level which allows the Company to comfortably sustain its current production and implement smoothly its long-term production strategy, social programs and modernization plan."
Norilsk, which proposed to buy out the 25% Rusal stake for $12 billion on December 16, only to see the offer unofficially spurned by Rusal press relations representatives – although with no official comment on the offer from executive level management – has reaffirmed its December 28 closing date for the offer.It has also emphasized that if Rusal doesn't take it up it will proceed with a share buyback which would see Norilsk management, Interros, Trafigura – to whom an 8% stake in the company was sold last week compile a 50% stake to affirm full control, despite opposition from Rusal.
Norilsk management will meet on December 28 to determine the next course of action.
Rusal replied to news that Norilsk had sold an 8% stake to Trafigura by noting that it hadn't been discussed at Norilsk Board level.
"We are not familiar with the terms and conditions of this deal as long as it has not been discussed at the meeting of the Board of Directors of Norilsk Nickel. We do believe that the sale of quasi-treasury shares is positive for the company, because in fact, it is a spin-off of a non-core asset. However, we are concerned that an asset worth over USD3.5 billion was monetized without discussion and voting at the Board of Directors of Norilsk Nickel. Moreover, the stake was sold to 'Trafigura', a company which is a direct competitor of Norilsk Nickel for marketing and sales of its metals. It is also unclear how MMC will use the funds received from the sale of this stake."
It then followed up by renewing calls for an Extraordinary General Meeting less than 3 months after Norilsk had held another EGM at which Rusal proposals failed to find sufficient votes from shareholders.