Norilsk makes revised Rusal buyout offer
Published time: 11 Feb, 2011 14:23
Edited time: 11 Feb, 2011 17:55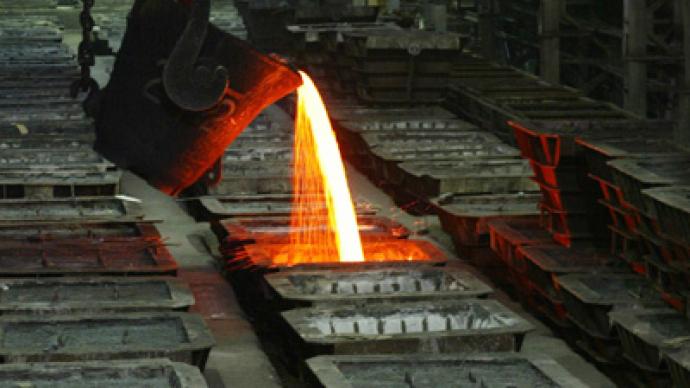 Russian resources producer, Norilsk Nickel, has made a revised offer to 25% shareholder Rusal, proposing buying 20% of the company for $12.8 billion.
In a statement released late on Friday, Moscow time, Norilsk announced that it was making the offer at a premium to current market price, as a means to end the current shareholder dispute between Rusal on the one side, and Interros (also a 25% shareholder in Norilsk Nickel) and Norilsk management.
"The Company believes that (i) UC Rusal's shareholders will, if required, strongly support the revised proposal, particularly at this increased premium to the publicly quoted price of the Company's shares, and (ii) the proposed transaction is in the interests of the Company's shareholders as it will resolve the ongoing conflict between certain of such shareholders and will therefore allow the management of the Company to focus all of its efforts on the development of the Company in the interests of all of its shareholders."
According to the statement the offer needs to be accepted by Rusal before 6PM Moscow time on March 4, and will require a 2 year agreement Norilsk being able to direct the voting of the remaining Rusal stake in the company.
The news comes after Norilsk made a $12 billion offer to buy Rusal's entire stake in December. Rusal declined the offer noting that it had not been through the Norilsk Nickel Board of Directors, and questioning a deal by Norilsk management to sell 8% in Norilsk to Trafigura Baheer.
After Norilsk's rejection of the offer Norilsk subsequently announced plans to outlay up to $3.5 billion on a share buyback. The share buyback was suspended following a court injunction sought by Rusal in Caribbean Federation of Saint Christopher and Nevis, where the Norilsk buyback vehicles Corbiere and Raliegh are registered.
Andrey Lobazov, Equity Analyst at Metropol says he thinks that Rusal may reject the offer.
"The board of MMC Norilsk Nickel has initiated another offer for Rusal this time the offer is 37% above of the market share price. Despite the fact that Rusal have managed to refinance its debts, the majority of its shareholders are willing to sell MMC shares to repay all debts, but Deripaska has his own plans and strategy. Deripaska may reject the offer due to increased opportunities on the next board of Directors elections following the recent court decision on Rusal's claim to prevent any transactions and the use of quasi treasury shares in a voting process.Rusal have earlier announced that it is expecting another offer from Norilsk Nickel. The recent offer with a specific condition meaning actually that Norilsk Nickel will have full rights to buyback the rest of shares in 2 years time. Norilsk Nickel is not buying back the rest of shares with this offer maybe because there is no crucial need for the rest of 5% of shares as it will obtain absolute control even with 20% and it is not reasonable to spend more funds on additional 5% that can be purchased in two years time."