Negative French PMI triggers EU recession fears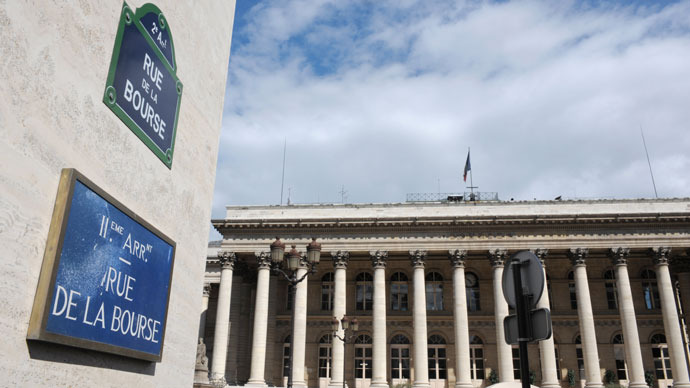 March data from the French private business shows the sharpest decline since 2009, indicating the EU's second-largest economy is entering another recession. This raises fears that the contraction of the EU economy could worsen to a 0.6% drop in 2013.
The Markit financial information service says the key growth indicator, the Flash Composite Output Index - in France hit the lowest level in four years at 42.1. 
Markit analysts forecast the almost 2 trillion euro economy of France will shrink by 0.7% in Q1 after losing 0.3% in the past three months. 
"Composite PMI data for the services and manufacturing sectors point to a further contraction in GDP during Q1, which would put France officially in recession," Reuters quotes Markit economist Jack Kennedy as saying.
Manufacturing output in eurozone's second-largest economy declined in March; services sector business activity declined showing the steepest fall since February. Incoming new business also decreased faster than before. Future sentiment dropped into the negative the Markit report says. 
Eurozone PMI also shrank in March hitting a four-month low as the economic downturn intensifies. 
"The concern is that the downturn has gathered pace again," AFP quotes Markit's chief economist Chris Williamson as saying. "Instead of the eurozone economy stabilizing in the second quarter, as many - including the ECB - have been hoping to see, the downturn could therefore intensify in coming months."
Deutsche Bank in Moscow altered their forecast for the EU economy, suggesting the GDP in the Eurozone will fall by 0.6% in 2013 against earlier suggestion that it will fall by 0.3%. 
"This data affirms the fears that the overall dynamic in the EU is negative," Yaroslav Lissovolik of Deutsche Bank told RT, adding that the Cyprus crisis may also push  business and consumer confidence down further. 
"Potential problems could also be related to the crisis in Cyprus aggravating the prospect of weak growth dynamics in the upcoming months," he said.
You can share this story on social media: