Ice-free runways for New Year holiday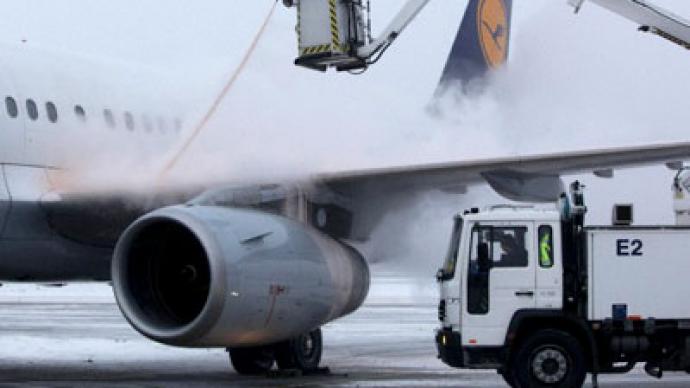 When things get very cold, they generally stop - that's what happened at Moscow's airports last winter when there wasn't enough chemicals to counter an ice storm which blanketed the capital.
Now the Transport Ministry is making sure the total breakdown when air travel froze to a standstill will not be repeated. All Russian airports will now be legally obliged to have their own snow cleaning equipment and, during the fall-winter season, ten days worth of stocks of anti-ice reagents. From now on, airports must register the amount and the quality of chemicals they've received, already have in stock and in use.If it becomes clear there's a lack of chemicals, airports must notify Russian aviation authorities. According to the new rules, the fall-winter season is the most tricky and airports must calculate their stocks of chemicals in such a way, so that even the worst and most intense snowfall and ice rain wouldn't interrupt operations. The transportation collapse in the capital happened in the last days of December 2010. The entire Moscow area was hit by an ice rain storm, which created power shortages, giant traffic jams, suspended trains and froze the city's airports. Over 800 flights were delayed, over 400 were cancelled. Around 20,000 people were stuck in the terminals.The storm was so bad, the airports were short of anti-icing chemicals and the manufacturers couldn't cope with the demand. Many experts say perhaps it's the manufacturers who should stock up on chemicals in advance, allowing airports to save money. But the problem is, most of these reagents are imported from Germany and the UK. There are Russian made ones, but according to the Institute of Civil Aviation, the most popular ones are based on chemicals which are imported. This leads to another problem – last year Germany was also hit by a snow storm at about the same time and its producers had trouble supplying German airports, not to mention Russian ones. In order to prevent a repeat, analysts say not only the airports but the companies which are often hired to de-ice aircraft also have to be legally responsible for stocking up on anti-ice chemicals in advance.
You can share this story on social media: