MBA graduates immune to downturn, salaries almost double in 5 years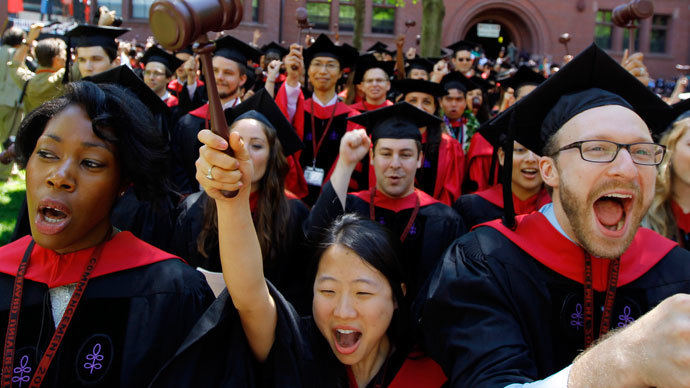 The 2014 Financial Times MBA ranking of the world's leading business schools shows the salary of top MBA graduates has doubled over the past 5 years, despite a slowdown in the global economy .
According to the FT survey, 94 percent of respondents say they had achieved the increase in salary they were looking for after graduating with an MBA. Those students who entered the programme in 2008-2009 and graduated in 2010, in the years of downturn, say their salaries have doubled over the last five years.
The highest earners three years after graduating were from Stanford Graduate School of Business with an average $182,000 a year. The second highest salary, and probably the most elite, were Harvard graduates with $176,000.
However the doubling of salary is still not a record. In the mid-nineties salaries tripled within a similar five-year period. Many of those MBA graduates went on to head the world's top corporations.
According to the FT500 top global companies survey, 30 percent of chief executives of the leading international companies hold MBA degrees. In the US the share of Masters of Business Administration among the chief executives of major companies is close to half.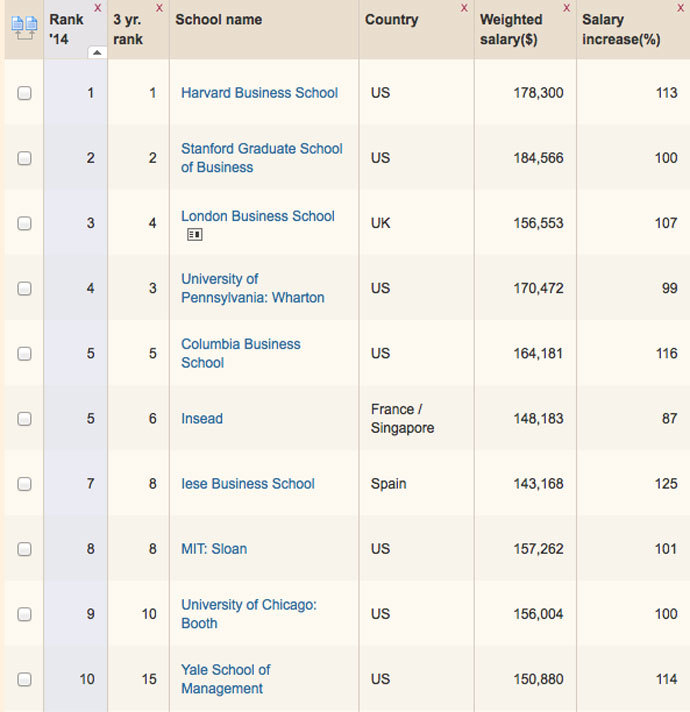 Besides the complexity of the programme the cost of 24 out of 100 elite MBA's is over $100,000, added to that there are accommodation costs and two years loss of salary.
Elite 100 MBAs is just 1 percent of about 12,000 business schools worldwide, and many graduate from them with $100,000 dollars of debt.
Chinese MBA graduates benefit even better than their US or European colleagues, due to the comparative rarity of the programme. The FT's 2014 ranking survey shows that from 2008, when alumni entered the programme to October 2013, when the regular survey was done, their average salary jumped 160 percent.
The majority of the top business schools are located in the US with 51 out of 100, and 7 of the top 10. London Business School is the best among the other 25 European MBAs in the list, and ranks third in the world.
The FT ranking has been going since 1999. The 2014 ranking was compiled from the examination of 23,000 alumni from 153 business schools, where 47 percent, or more than 10,000 MBA graduates completed the survey.
You can share this story on social media: