Market Buzz: World uncertainty pushes Russian markets into red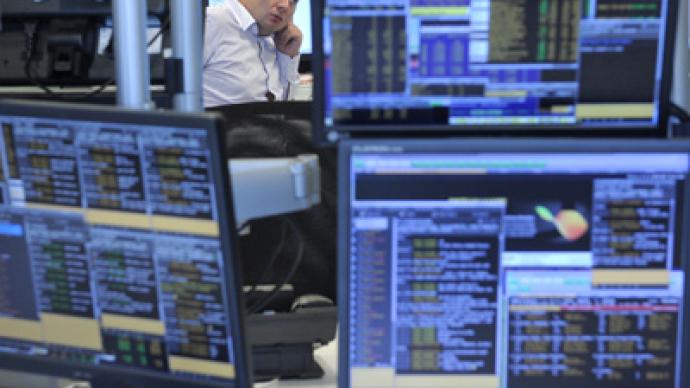 The markets are eyeing Greece for signs of it finalizing negotiations with potential creditor banks – a move which is expected by the end of this week.
Another important factor is the EU fiscal deal which regulates budget deficit limits, but which has thus far failed to get full approval."In the light of world market uncertainty, Russian stocks remain in the short-term red trend," says chief economist at Finam Management, Alexandr Osin. "Nevertheless, the potential for the market to recover by the second half of the week, after the release of the EU summit outcome data, remains. European leaders have already proved their ability to reach important compromises," Osin adds.On Monday, the RTS lost 1.23% and dropped to 1546.59 points, while the MICEX shed 0.03%, down to 1511.61 points.EU analysts expect December's unemployment figures on Tuesday. Debt problems in the eurozone have had a negative impact on jobs in the region. In October and November, the unemployment rate persisted at a record level for the decade of 10.3%. Poor employment results could have a negative impact on the EU currency rate.Data on the Consumer Confidence Index is also expected in the US on Tuesday. Analysts expect the index to rise to 68 points from the current 64.5. If the forecast proves correct, it will be able to support the national currency as well as the US market, which closed in the red on Monday.The Dow Jones dropped 6.74 points to 12,653.72, the S&P 500 Index slipped 0.3% to 1,313.01 and the Nasdaq Composite Index lost 0.2% to 2,811.94.Asian stocks gained a bit this morning with the Japanese market receiving a boost from manufacturing firms and Australia's retailer Woolworths Ltd. contributing to share growth in Sydney.Japan's Nikkei Stock Average and Australia's S&P/ASX 200 index each rose 0.2%, and South Korea's Kospi gained 0.7%.
You can share this story on social media: