Market buzz: All eyes on US Fed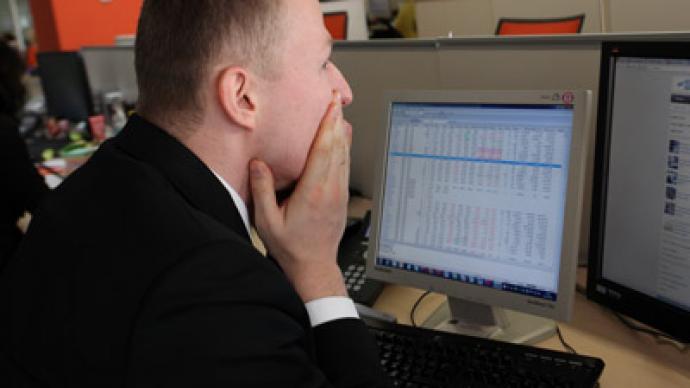 Investors are unlikely to make any big moves as they watch the US Federal Reserve, which is to announce its policy meeting decision later in the day.
"On Wednesday investors will be cautious in volatile trading with all eyes on the US Federal Reserve meeting. Negative sentiment  dominating the Russian indices has dragged them to about their minimum levels, giving an opportunity for a significant rebound, however, it's unlikely the bounce-back will be quick ," maintains analyst Kirill Markin from Investcafe. The Russian markets continued Monday's downward trend with the Micex losing 0.6%. The RTS managed to finish Tuesday's session in positive territory, gaining 0.2% as the rouble strengthened. Asian markets are higher on Wednesday as investors await key policy meetings in the US and Japan this week. Technology stocks were given a boost by a forecast-beating 93% quarterly profit report from Apple.
The yen weakened as currency investors expect another round of easing measures from the Bank of Japan when it meets on Friday. The euro was on the rise after suffering a selloff earlier in the week. Japan's Nikkei Stock Average was up 1% at midday, as a weaker yen pushed up shares in Tokyo. South Korea's Kospi gained 0.5%. In muted trading on mainland Chinese bourses, the Shanghai Composite Index gained 0.3% while the Hang Seng Index inched higher 0.08%. Australian and New Zealand markets were closed for a holiday. The European markets rebounded from Monday's sharp sell-off. Some decent bond auctions in Spain, the Netherlands and Italy eased concerns over Europe's debt crisis. Banking stocks were leading gains on Tuesday, providing support to the markets. However in the afternoon the European markets gave back some of their early morning gains, following US new home sales and consumer confidence reports. The DAX rose 1.03%, the CAC 40 gained 2.29% and the FTSE 100 finished up 0.81%.In the US the markets ended Tuesday's session mixed. The Dow Jones Industrial Average was up 0.58%. The Nasdaq Composite was down 0.3%. Standard & Poor's 500 was up 0.37%.Apple shares jumped 7%, as the company reported its best March quarter ever, thanks mostly to strong iPhone sales. Apple sold 35.1 million iPhones in the quarter, higher than the 31 to 32 million expected by analysts.Yandex shares lost 7% on the Nasdaq, tumbling the most this year on speculation that the owner of Russia's most popular search engine will report less net income for last quarter as competitors such as Google targeted its market share.As to macroeconomic data, home prices dropped in February for a sixth straight month, according to the Standard & Poor's/Case- Shiller home-price index. New home sales in the US slid 7.1% to their lowest level in four months in March. Consumer confidence dipped slightly in April to 69.2 from 69.5 in March.
You can share this story on social media: