Market Watch November 19: Downer day in Moscow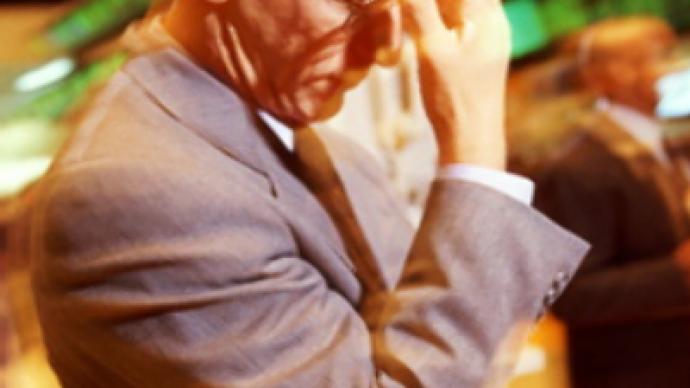 Russian stocks fell again on Wednesday as easing crude prices and commodities undermined market sentiment. Another stoppage on the Micex helped keep things orderly.
Asian investors on Wednesday weren't inclined to take up where Wall Street had left off, with its late rally pushing the Dow to a higher close. Tokyo edged 0.66% lower with exporters down on ongoing concerns about their export markets, with Hong Kong losing 0.77% in very light trade and the ASX losing 0.85% as commodities continued to lose ground. Crude prices continued to wallow near their 22 month lows, shrugging off the hijacking of a fully laden oil tanker off the coast of Somalia.
That sentiment, if not the idea about hijacking oil tankers, flowed through to Moscow where the RTS and Micex, after a rebound on Tuesday afternoon, found themselves again dealing with another heavy sell off, compounded by further negative sentiment on the Rouble. Lunchtime found both indices down, with the Micex halting trade for an hour yet again in the early afternoon. From there however there were mild gains, with the RTS managing to get a gain out of the day to finish at 605.84, up 0.68%, and the Rouble denominated Micex closing 45 minutes later, down 3.35% at 558.12.
Crude languished throughout the day ahead of the release of U.S. inventory data, and on reports that OPEC is unlikely to cut production at its late November meeting, seeing Russian energy stocks remain near their recent floor once again. With Brent futures nudging under the $50 BBL mark and Nymex light Sweet holding well under $55 Surgutneftegaz (down 2.58% on the Micex at close) shed some of the upside it had gained from an upbeat Citigroup outlook on Tuesday, with Rosneft (down 0.9%) also lower while Lukoil (up 0.30%) and GazpromNeft (up 0.33%) at least managed to keep their noses above the starting mark. Gas fared worse with Gazprom (down 2.7%) and Novatek (down 8.04%) well south.
Globally, amongst metals and minerals, nickel, zinc, tin, copper and silver all lower over the course of the day, but with gold starting to get more interest as fears about the global economy start to become more intense once again. That saw Norilsk Nickel (down 3.89% on the Micex at close) and Polymetal (down 4.17%) down, with Polyus Gold (down 3.21%) going the opposite way to its major product. Steelmakers were hit a little harder with MMK (down 6.27%) and Severstal (down 5.81%) lower but not majorly so, leaving NLMK (down 13.73%) to carry investor wrath for the sector. Also getting down and dirty was coalminer, Raspadskaya (down 15.95%).
With financials still on the nose globally and with concerns about the interbank rates locally, to go with ongoing fears of a Rouble devaluation, Russian banks were generally lower. Sberbank (down 2.39% on the Micex at close) and VTB (down 1.88%) reversed Tuesdays gains, with Rosbank (down 4.81%) also well down, while Bank Moskvy (up 0.35%) and Bank Vozrozhdenie (down 0.32%) barely moved.
Telecoms moved as a herd with the rest of the market leaving Sibirtelecom (down 2.31% on the Micex at close), Dalzvyaz (down 1.37%), Uralsviyazinform (down 3.86%) and Volga Telecom (down 1.88%) in the same ball park. IT service provider Armada (down 6.67%) can feel harder done by. Also moving as a herd were automakers Avtovaz (down 4.07%), Kamaz (down 1.25%) and Sollers (down 2.97%) – unfortunately not in a direction to make their investors happy. Retailers Sedmoi Kontinent (down 4.1%) and Magnit (down 4.46%) continued the moving in packs theme. Wimm Bill Dann stuck out like a sore thumb with its 17.08% fall. Elsewhere it was red for Razgulay (down 3.61%) Veropharm (down 5.66%) and Kalina (down 0.29%).
If anything the Russian markets may have got away with the day a little lighter than could have been the case. Europe had one of those days where things headed south and just sort of kept going, even picking up speed after the U.S. markets had opened up. In London it was those commodity stocks and bankers on the nose while the FTSE 100 wilted 4.82%. In Frankfurt BASF became the latest company to freak investors out with a gloomy outlook, when it said it would cut production by 25% and reduce working hours for 20% of its staff. That helped the company to dive 14% while the Dax closed 4.9% low. Also down was Paris, where the Cac 40 lost 4.03% with BNP Paribas and Credit Agricole took a buffeting.
On Wall Street the Dow and Nasdaq have taken yet another caning as the American auto industry pleads for its very existence before a congressional committee, seeking a massive bailout, while data showing consumer prices falling by a record amount last month add to concerns about deflation. Adding to the gloom are the minutes from the last Fed meeting suggesting policymakers were mulling a recession which lasts until mid 2009 with Energy department data showing U.S. inventories climbed by more than expected doing nothing for crude prices or energy stocks, and record low new home construction data . At the close of trade the Dow was down 5.07% and the Nasdaq down 6.53%.
Market Watch November 17: No lift in sight
Market Watch November 14: Mild relief before global clouds move in once again
You can share this story on social media: