Market Watch December 4: A little bit of this, a little bit of that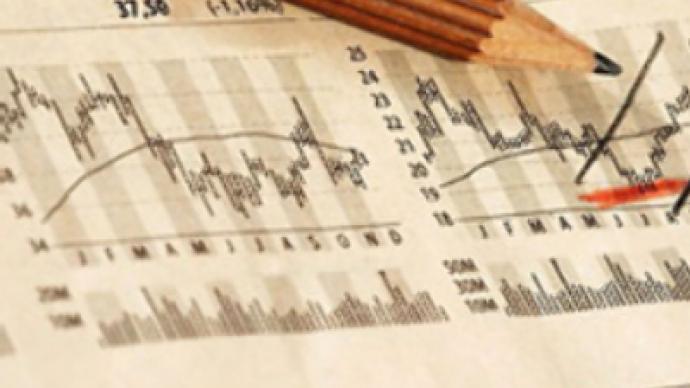 A light and hesitant days trade around the world saw the RTS and Micex close mixed on Thursday, with investors looking for gems in the Prime Ministers question and answer session, watching crude prices continuing to sag, and factoring in further global ra
After Wall Street added 3% on Wednesday evening in the face of some ugly economic data, Asian investors tread water whilst wondering if they should take the lead or look at the data. They eventually looked at the data but with enough hesitancy to keep the falls to something manageable in the hope that maybe theres something sunny happening in the U.S. that nobody has let on about yet. Tokyo lost handed back 1% after flirting earlier in the day with partying on, but thinking better of it as the implications of a firming Yen to go with the goings on in the worlds largest selling market hit home. Hong Kong eased 0.58% with financials lower and Sydney lost 0.24% with resources down. The lead in to Moscow was down, but not so far it couldn't quickly be up if someone dug up some good news from somewhere, as though everyone was waiting for someone else to make a move.
Moscow investors continued the holding pattern, moving both sides of the starting mark before moving slightly higher in light trade ahead of Prime Minister Putin's question and answer session with the general public. Throughout the course of the widely viewed televisual feast, the indices held pretty much right where they had started it – up a percent or so. No sooner had he finished than it looked as though a sell off would commence with the RTS and Micex both heading south. But it wasn't to be, with both coming back to end the day within sniffing distance of where they had started it – almost as though there was no real reason to sell, but at the same time, no real reason to buy. At the end of a hesitant and skittish, yet strangely considered and deliberate, day of waiting the RTS was down 0.56% at 599.96 – so close one feels niggardly for writing its closed below the 600 mark – with the Micex closing at 567.94 – its 0.17% gain so marginal as to require touch judges and stewards to call for a photo.
Crude continued to wallow ahead of the next OPEC meeting with everyone expecting another hefty cut in production, but at the same time pricing in the possibility that any cuts to supply are being mocked by collapsing global demand. Brent for January and Nymex light sweet positioned themselves each side of the $45 BBL mark and remained there for much of the Russian day, with the weeks lower inventory figures in the U.S. drowned about by gloomy economic data sapping the outlook. Later in the day prices made a clear break for the downside in the wake of gloomy predictions about the Eurozone economy by Jean Claude Trichet, and expectation that Fridays payroll figures in the U.S. will be nothing short of abysmal, to see Brent spot down 8% at $41 BBL, with Nymex futures and the WTI spot well below $45 – not to mention the boys at Merrill Lynch chipping in with a forecast that the $25 Barrel is on the way. Before that point however, Russian energy stocks had received some boost from the PM's acknowledgement that they are currently exporting at a loss, and what was seen as a definite hint that there could well be a cut in the resources tax at the start of next year – 3 weeks away. The net result at the end of the day in Moscow was Lukoil (up 3.37%) getting a clear boost, with GazpromNeft (up 1.02%) and Ritek (up 1.67 %) also laying claim to upside, while Gazprom (down 2.03%), Surgutneftegez (down 1.97 %), Rosneft (down 0.29%), and Novatek (down 1.14%) all eased, while staying within sight of their opening price.
Base metals, gold and silver drifted lower through the day. Despite this Norilsk Nickel (up 2.20%), Polymetal (up 1.43%) and Polyus Gold (up 2.77%) made gains. The bouncing steelmakers, MMK (up 5.25%) and NLMK (up 6.25%) made it a second consecutive day of gains, while rival, Severstal (down 1.17%), made it a second straight minor slide. Uralkali (up 12.04 %) recouped more of the hiding its received in recent weeks when Resources Minister, Yuri Trutnev, commented that he didn't think the company was to blame for the sinkhole which occurred at one of its operations in 2006 – an investigation into which has recently been rejuvenated – and Raspadskaya (down 0.32 %) took the slightest of falls.
Russian banks also stayed within sight of the start while central banks in Britain and the Eurozone cut rates. Sberbank (down 2.71 %), Bank Vozrozhdenie (down 4.01%), and Rosbank (down 1.14%) closed lower while Bank Moskvy (up 0.38%) got something positive from the day.
In the consumer goods and retail world Magnit (up 4.07 %) drew some support from the governments economic support measures and Pharmacy 36.6 (up 2.54%) something from reports it will sell its majority stake in Veropharm. Sedmoi Kontinent (down 8.74%), Kalina (down 5.62%), Wimm Bill Dann (down 6.51%), and Lebedyansky (down 1.23%) provided the yin to go with that yang, while agricultural commodity producer Razgulay (up 1.25 %) gained on news the government will buy more grain.
Telecoms barely moved from the start with only MTS (up 8.34%) doing anything substantial. Carmakers Sollers (down 7.67%) and Avtovaz (down 4.65%) went into reverse while truckmaker, Kamaz (up 3.07%) found the road rising to meet it with a VTB credit line. Armada (up 29.92%) put in another strong performance, with RusHydro (up 6.26%) and OGK-3 (up 5.94%) also gaining.
The delicacy in Asia and Russia wasn't to be held back from Europe, where London, Frankfurt and Paris all fell less than 0.2%! Given some of the daily index movements seen over the last two months it was almost like having Deep Purple come out and play a koto. The rate cuts by the ECB and Bank of England certainly helped keep things from selling off, while the warnings coming with them made buying a step for stronger hearts. The FTSE 100 down 0.15%, the Dax down 0.07% and the Cac40 down 0.17% – somebody somewhere was waiting for something.
What they were waiting for was more news – good or bad – out of the U.S. and a lead. The news came early, with jobless figures hitting a 26 year high, factory orders showing the biggest drop since 2000, carmakers begging before Congress and more jobs being shed, while Ben Bernanke acknowledged that the private sector wouldn't be able to cope with the crisis engulfing American housing. Even in the face of this, a pulsating days trade rarely saw the indices move too far from the start, before a gallant resistance wilted in the final hour of trade – as it has done so often in recent weeks – to see the Dow down 2.51% and the Nasdaq down 3.14% at the close.
All percentage movements refer to the Micex at close
You can share this story on social media: