Market Watch December 3: Adrift in the doldrums, sitting lower in the water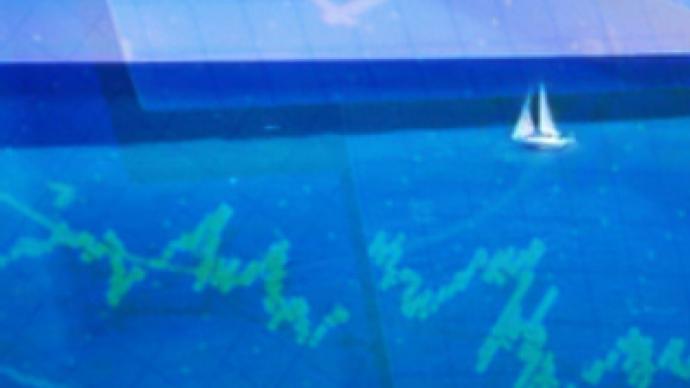 Russian stocks again drifted lower throughout Wednesday trade as uninspiring crude and metals prices, and diffident sentiment in Europe combined to send the RTS and Micex downhill.
The late session rally which pushed Wall Street to a 3% gain overnight flowed through to Asia where the Nikkei and Hang Seng scratched together some sort of rebound from the falls of the previous day. Tokyo added 1.79% with domestically focused stocks becoming the in thing, and anything with exposure to U.S. sales, like carmakers, something to run away from. Hong Kong pencilled in a 1.36% gain as domestic Chinese factors lent some upside to telecoms and banks, and Sydney added an even more desultory 0.09%.
There was no major reason for Moscow investors to feel noticeably enthused as they trundled into work, failing another gravity defying moment, or major announcement. These were manifest by their absence, and Moscow trade unfolded quietly, orderly, and pretty much as anticipated. Both exchanges drifted lower at the opening, steadied around lunchtime, and then drifted further south throughout the afternoon. The Micex, being open for 45 minutes past the RTS bedtime, managed to get a piquant upturn in the final 30 minutes but still finished the day 2.23% lower at 567. The RTS shed 2.41% to retain a foothold over 600, at 603.33.
Crude prices eased ever so slightly throughout the day from the levels to which they had fallen over Monday and Tuesday. This saw Brent spot prices flirting with the $45 BBL mark, with Nymex for January and the WTI spot prices loitering about $46- $47 BBL. Given the energy sapping economic forecasts abounding there seems little reason for them to push noticeably higher in the short term, although Qatari oil Minister, Abdullah bin Hamad al-Attiyah, did his best by announcing that OPEC would 'certainly' be cutting production when it next meets, and affirming that $70 BBL was the minimum need to invest in future production. At the close most the energy majors were a tad lower with Surgutneftegaz (down 4.43%on the Micex at close) getting a relatively mild worst of things, with Rosneft (down 2.79%), Lukoil (down 0.63 %), and Ritek (down 1.85%) all following while GazpromNeft (up 2.38%) pulled some upside out of its bag of tricks, and Gazprom (down 3.52%) and Novatek (down 2.29%) stuck with the herd.
Resources and commodities fared no better than oil with most base metals shaving a layer off their Tuesday prices, and gold and silver doing likewise. This saw Norilsk Nickel (down 2.87% on the Micex at close) and Polymetal (down 0.16%) gently ease, while Polyus Gold (up 0.25%) gilded its day with a minor gain. Uralkali (up 5.54%) picked up a little more of its recent hammering, and Raspadskaya (down 2.03%) eased, but the bouncing steelmaking twins, MMK (up 13%) and NLMK (up 5.83%), continued their recent gyrations while rival, Severstal (down 0.76%), watched on. Those who like their steel in pipe form will have been impressed with TMK (up 11.61%) and its outing on the day.
In the financial sector URSA Bank and MDM bank announced that they would be merging to create the second largest private bank in Russia. State owned big boys Sberbank (down 4.19% on the Micex at close) and VTB (down 1.29%) were presumably down on other news, while Bank Moskvy (down 1.36%) and Bank Vozrozhdenie (down 3.47%) were down no more than the overall market, and Rosbank (up 2%) continued its recent impeccable form in playing the odd man out.
Out on Main Street, Sedmoi Kontinent (up 5.17%) and Magnit (up 0.74%) saw upside while Dixy (down 29.99%) was the loss leader. Pharmacy 36.6 (up 1.17%) and Kalina (down 1.78%) didn't stray too far from the starting mark, and Wimm Bill Dann (down 2.39%) probably knew it was only going one way after Tuesday's ostentatious gain.
On the lines across the country things headed gently south with MTS (down 5.29%) leading the field the wrong way, while Uralsviyazinform (down 0.59%), CenterTelecom (down 0.39%), Volga Telecom (down 2.46%), Dalsviyaz (down 1.96%), Southern Telecom (down 1.75%) came down with milder doses of the same complaint.
Elsewhere, carmakers, Sollers (down 5.01% on the Micex at close) and Avtovaz (up 5.43%) went their separate ways, while truckmaker, Kamaz (down 0.92%), kept things relatively steady. Armada (up 13.92%) came back from its start of the week mauling, while property developers PIK Group (down 29.99%) and LSR Group (down 18.48%) headed in for a fresh mauling, as one of their major rivals announced it would start offering some of its apartments at a considerable discount. Should they feel in need of contemplation, power generator RusHydro (down 3.65%) can offer the appropriate facilities, while fellow livewire OGK-3 (up 6.32%) can remind them of the upside.
In Europe stocks looked to be following in the same lacklustre manner for a mildly negative day, until such point as a mid morning burst of ebullience on Wall St – about the time Moscow closed – enabled a rally to the European close. That saw the FTSE 100 get out of jail free to a 1.14% gain with mining stocks doing better – excepting Rio Tinto - while the Dax got away to a 1.05 gain, and the Cac40 can dine out on its 0.44% more positive closing.
Alan Greenspan once referred to irrational exuberance in the markets, and its possible that the mid morning surge in the U.S. was yet another example. For the day began with some sepulchral data showing that service industries in the worlds largest economy were contracting at the fastest pace on record in November, while the month saw the biggest drop in private sector jobs in 6 years, and the positive side of the emotional spectrum was being championed by a rise in internet sales on December 1, a slight decrease in U.S. crude inventories, and a record increase in mortgage applications. Once Europe was tucked in for the day with a gain Wall Street headed south in early afternoon trade ahead of the Federal Reserve release of the Beige Book. It was chock full of words which generally have a negative connotation including 'weakened', 'decreases', 'down', 'soft', 'weak', 'low', 'reduced', 'contracted', 'declined', 'reductions', 'subdued', and 'difficult' – and that was just the first 2 paragraphs of the summary. Despite this, buyers waded in afterwards to push the Dow higher once again. One wonders where irrational exuberance ends and delirium begins. At the close the Dow and the Nasdaq were up 2.05% and 2.95% respectively.
All percentage movements refer to the closing prices on the Micex
MDM Bank and URSA Bank to merge
Razgulay chief calls for increased support for Russian agriculture
You can share this story on social media: