Market buzz: Upbeat start to week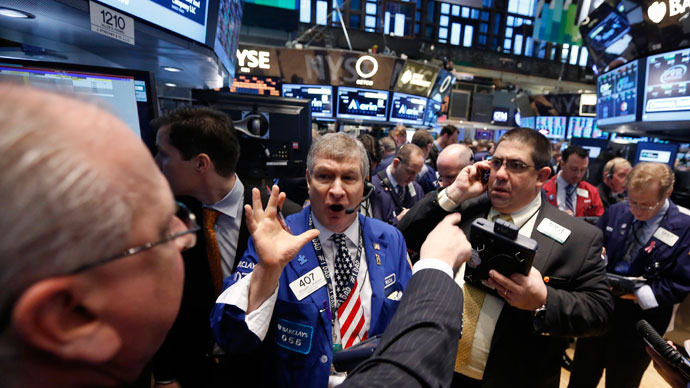 American indices and recovering oil prices will push Russian stocks up on Monday, starting the session on March 25 in the black. Investors are still watching Cyprus to get more news on the future fate of the island state's banking sector.
Friday's trading day ended in the red for the Russian stock market. The MICEX lost 1.22%, while the RTS dropped by 1%. MRSK, MRSK North Caucasus, Paspadskaya, FSK EES, OGK-2 and preferential papers of Transneft topped the growing shares despite the overall decline. Rao ES of the East, AFK Sistema and Severstal were also buoyant.
Markets in Europe were less optimistic and mostly ended Friday's session lower.
The British FTSE100 was slightly up by 0.07%, however the German DAX lost 0.27% while the French CAC40 dropped by 0.12%.
Despite the situation in US floors were climbing again.  The Dow added 0.63%, S&P 500 grew by 0.72%, and NASDAQ was up by 0.7%.
No big news is expected for global stock markets on March 25.

The UK is to release industry data on mortgage approvals, a leading indicator of demand in the housing market.
Later in the day, US Federal Reserve Chairman Ben Bernanke will speak in London. Investors are ready to watch his speech closely for any signs of the possible future direction of monetary policy.
Russian news will include the release of NLMK Group's financial statement for 2012. The last year proved successful for the steel maker. Final EBITDA margin is expected to rise to 15.2%.
Globaltrans Investment PLC will also publish its financial statement for 2012.
Gazprom Neft is holding board meeting on Monday to approve work plan for the first half of 2013.
Asian Floors are currently mixed. The Shanghai Composite has lost 0.16%, the Hang Seng is down by 0.16%, while the Nikkei is up 1.45%.
Oil is on the rise with Brent adding 0.31% in price, while Light is up 0.4%.
You can share this story on social media: