Market buzz: Russian stocks attempting to recoup losses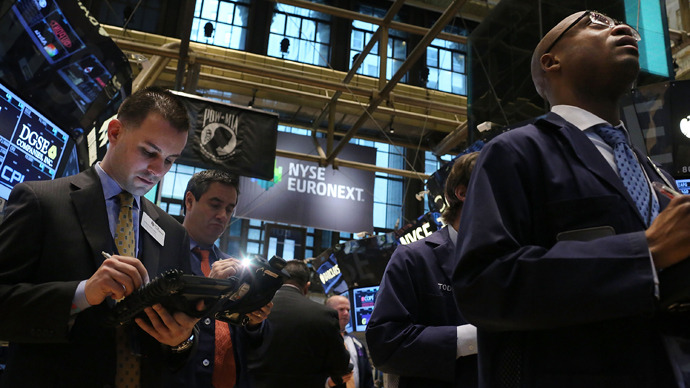 A mixed international outlook will likely mean a weak – but positive – start to Thursday's session on Russian floors.
On Wednesday, March 13, Russian markets closed in the red: The MICEX dropped by 0.36% and the RTS lost over 0.74%. Polyus Gold, pharmaceutical chain 36.6, MRSK Center and Volga Region, Inter RAO UES and E.ON Russia saw gains despite the overall decline; Norilsk Nickel, Irkutskenergo and RAO ES of the East saw the biggest losses.

Asian floors started Thursday's session mixed: The Nikkei has grown by 0.26%, the Shanghai Composite adding 0.09%, the Hang Seng lost 0.66% and the KOSPI is down 1.2%.

The mixed trading is driven mostly by China, as investors are wary of the country's economy. However, indices have also been boosted by optimistic macroeconomic news from the US and an expected drop in unemployment, due to be announced today.

European floors closed Wednesday's session mixed. The FTSE100 dropped by 0.45%, as investors saw EU austerity measures as harming economic growth while doing little to fight budget deficits. Other European indices showed little change; the German DAX demonstrated symbolic growth of 0.06%,and the CAC40 dropped a slight 0.1%.

Today's EU summit in Brussels between the newly elected Cypriot president and leaders of EU nations may bring important news: EU leaders could ease austerity measures within the eurozone, and grant extra time to states like France, Spain and Portugal to slash their budget deficits. Other news expected on Thursday includes the release of unemployment data from Greece and the EU for Q4 2012; no significant changes are expected.

US stocks closed in positive territory on optimistic news including a growth in retail sales and US Business Inventories. The Fedral budget deficit was also slightly lower than expected – $204 billion against the $205 billion predicted earlier. Higher gas prices and a slowly improving labor market are likely to be key factors in Thursday trading. Today, the US will release a weekly update on the number of initial claims for unemployment insurance, as well as February wholesale prices.

Oil prices continue to see minor declines, partly due to the growth of US oil reserves announced the day before: Brent has lost 0.17% and WTI is down by 0.24%.

Russian stocks are also awaiting the release of RusHydro figures for 2012, according to RAS.

You can share this story on social media: