Market Buzz: Stocks are to grow on good news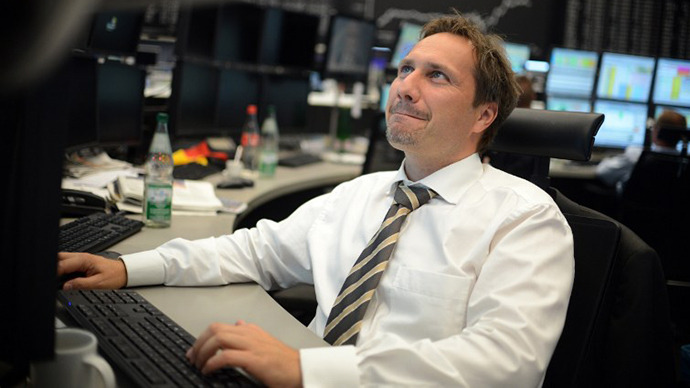 Russian indices are expected to start Thursday session in positive territory, thanks to favorable background at the beginning of trading.
On Wednesday Russian stocks showed mixed trading, with MICEX going up 0.17%, but RTS sliding a bit down 0.02%. Best performance belonged to Sollers, MRSK of Center and Privolzhye, Irkutskenergo, OGK-5, while shares of MosES, TGK-14, Polyus Zoloto and Aeroflot went down. On Thursday Russia's Megafon is to report record sales for 2012 and gaining market share in the country.
Asian stocks are trading in positive territory. Nikkei is going up 1.85%, Shanghai Composite is climbing 0.55%, and KOSPI is adding 0.99%. The reason for optimism is US statistics published on Wednesday, the appointment of a new director of the Bank of Japan who is to start another stage of quantitative easing, and also good news from Italy, where a new coalition government has been declared.
South Korea has published a positive January figures – manufacturing index exceeded expectation and reached 7.3% against just 0.8% last December.
Europe ended Wednesday with a confident growth. FTSE100 added 0.88%, DAX grew 1.04%, CAC40 — 1.92%. Today we expect new data on price growth in Europe – January index of manufacturing prices in France, preliminary estimation of consumer price index in Germany and retail price index for eurozone in January. It is expected that inflation will show decline across eurozone. Also, new data on German unemployment in February are expected to show stable figures at 6.8%. Thursdaytradingisexpectedtoend'ingreen.'
US stocks also showed growth on Wednesday – DJIA went up 1.26%, S&P500 added 1.27%, NASDAQ — 1.04%. On Thursday we expect ne data on US unemployment which is likely to show lower figures. Later in the day GDP figures for 4Q 2012 will be published, which are expected to show economic growth at 0.5% against preliminary estimations that it will shrink 0.1% Futures at S&P500 are adding 1.63%.
Crude prices are going up: Brent is adding 0.37%, while WTI is increasing 0.36%.
You can share this story on social media: