Market buzz: Pessimism remains on Cyprus news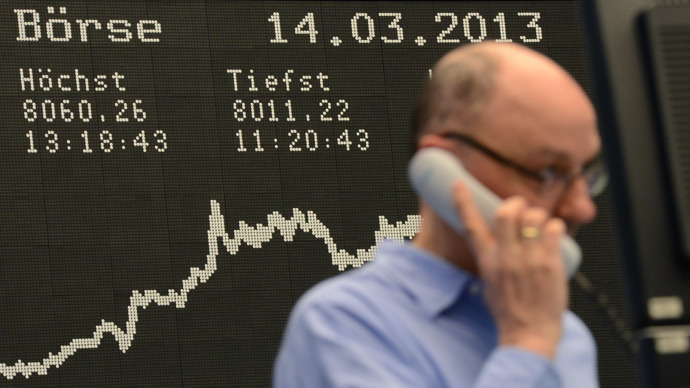 Russian markets are likely to start Wednesday's session in the red and continue declining later in the day. There is little chance of recovery. Indices are expected to rewrite the year's low.
The March 19 session brought 0.9% loss to MICEX and 1% drop to RTS. The metals sector suffered the most significant decline in Tuesday's session. Mechel, TMK, Severstal, Belon and NLMK papers have lost from 2.3% to 3.5%. Macroeconomic prospects for the sector are rather pessimistic on the latest data from the eurozone, where the building has dropped by 1.4% year-on-year in January.

European stocks have been falling for a third day in a row on Tuesday in fear that Cyprus would reject the one-off bank deposits levy. The Stoxx Europe 600 Index lost 0.4% at the close of trading. National benchmark indices were down all over western European markets. Only Ireland and Denmark sustained. The British FTSE 100 dropped 0.3%, Germany's DAX fell 0.8% and France's CAC 40 lost 1.3%.
A European group of creditors pledged yesterday to support Cyprus weary economy despite the late Tuesday's vote against the deposit levy.
US stocks closed mixed on Tuesday, despite the anticipation of news from Cyprus threatening to bring more turmoil across the European financial system. S&P 500 was down 0.24% on the news that Cypriot parliament voted against the revised deposit levy meant to secure EU bailout loan. The NASDAQ lost 0.26%. Only the Dow remained afloat with almost static trade.
European group of creditors pledged yesterday to support Cyprus weary economy despite the vote against the deposit levy.
Today's main news is expected from the US Federal Open Market Committee, due to be announced by Ben Bernanke by the end of the meeting. Monetary policy makers agreed at the previous meeting that the rates should start climbing again as inflation and unemployment figures improve.

Asia is mostly in the black on Wednesday. Japan's Nikkei and Shanghai Composite are adding more than 2% each. The Hang Seng is up 0.9%. Positive macroeconomic data from the US and expectations that the soft monetary policy in the US, Europe and Japan will support the Asian stocks. 
Oil quotes are slightly up. Brent is reaching $108 per barrel.

You can share this story on social media: