Market Buzz: American consumerism drives Euro and Asian floors
Published time: 20 May, 2013 06:45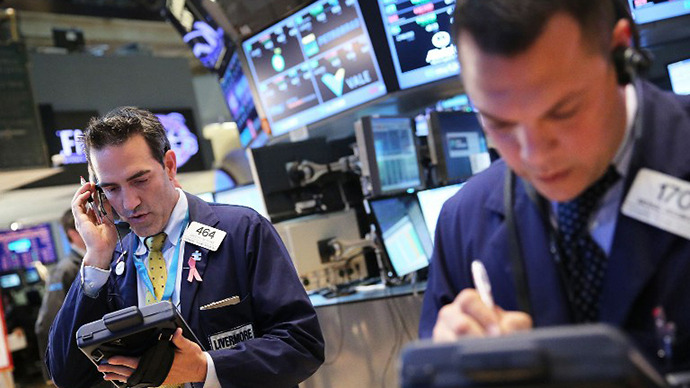 Positive US consumer data drove up European stocks, while Asian shares almost reached a five-year high and the yen made a marked comeback.
Russian markets slightly eased Friday, after low crude prices took their toll on last week's equities. After dropping nearly 4 percent over the past week, the MICEX slightly recovered and gained 0.16 percent to 1404.04, a four-day high. The RTS gained to 0.21 percent, up 2.98 on Asian floors.
The rouble strengthened slightly weakened against the dollar, closing at 31.44, down 0.13 percent.
European bourses closed high on Friday after disappointing data sparked speculation of further rate cuts by the European Central Bank.
All European indices are trading up on Asian floors, after the release of Friday's US Consumer Report boosted market confidence The Euro Stoxx has climbed 0.40 percent to 2817.99, France's CAC 40 gained 0.56 percent to 4001.27 and Germany's DAX is up 0.34 percent at 8,398.00,  continuing there nine-day gain streak.
The FTSE 100 added 35.26 points, or 0.5 percent, to 6,723.06 at the close in London, the highest since October 2007. The FTSE All-Share Index gained 0.6 percent Friday, marking 12 days of advance, its longest positive streak since 1987. The UK is to release private sector data on house price inflation on Monday.
US markets climbed to a five-year high on the positive consumer confidence reports conducted by the University of Michigan, which reported a six-year high in consumer sentiment. The Dow Jones added 0.80 percent and closed at 15,354.40, and the S&P soared 1.03 percent to close at 1650.47.
Asian stocks climbed and almost reached a five-year high on Monday, snapping out of a two-day slump. The Nikkei 225 is up 1.35 percent, the Hong Kong Hang Seng index is up 1.57 percent after a bank holiday, and the Shanghai Composite is trading up 0.71 percent. The yen rebounded from its lowest level since October 2008.
Australia's S&P/ASX 200 Index added 0.60 percent and the NZSE index is slightly easing, up 0.03 percent.
Oil is slightly down on Monday's Asian markets, but has fared better than the industrial metals, which took a big hit. Silver hit its lowest price since 2010 and gold dropped for its eighth straight day.
WTI dropped 0.24 percent to 95.79 and Brent dropped 0.06 percent to 104.58.