Global manufacturing is on the rise in January, but optimism muted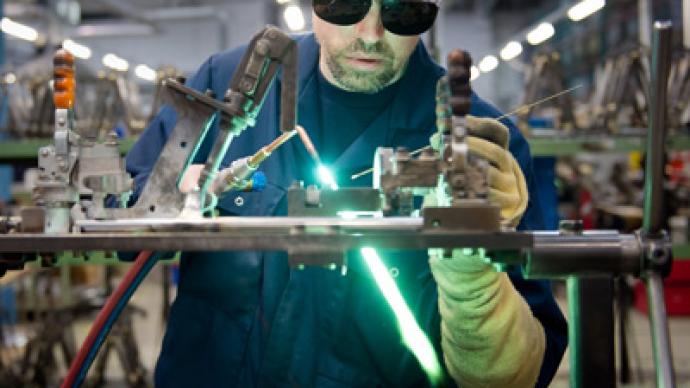 Manufactures in key world economies including Russia have enjoyed an improved start of the year, says an HSBC report. However, market experts remain restrained about the results, seeking further evidence a turnaround is here.
Business conditions for manufacturers in Russia, the Eurozone, China and the UK were better in January, as the HSBC Purchasing Managers' Index (PMI) went up from their December figures. The PMI is a composite indicator designed to give a single-figure snapshot of operating conditions in the manufacturing economy.In Russia, the PMI reading came up to 52 points in January, which compares to December 15-month low of 50.0. The improvement came on the back of increased new orders, that grew at the pace almost the same as before the 2008 crisis.Readings above 50.0 indicate an overall improvement in business conditions, below 50.0 an overall deterioration.Though looking quite optimistic at first glance, Russia's performance shouldn't be overestimated, Alexander Morozov, Chief Economist (Russia and CIS) at HSBC, commented."…the improved performance in January against the low December base does not tell much about the sustainability of this improvement," Morozov added.The crisis struck eurozone also performed better in January, though remaining in "contraction territory." Eurozone PMI was at 47.9 in January, up from a December reading of 46.1. The reading marked its highest level in 11 months, but shows the contraction has lasted for 18 months.Germany was a key trigger for the improvement in Europe, where output grew the strongest among all the other states in the area.Rising exports, in turn, helped to revive manufacturing in other countries, for example in struggling economies such as Spain and Italy."The Eurozone economic picture continues to brighten," which may unfold into a recovery, should no other shocks arrive, says Chris Williamson, Chief Economist at Markit, a global financial information service that partners HSBC for PMI reports."…the PMI provides hope that the first quarter could mark the start of a turnaround. Providing there are no further set-backs to the region's debt crisis, this data adds to the expectation that the eurozone is on course to return to growth by mid-2013," Williamson added.Manufacturers in China also boasted a better work environment in January, with its PMI figure remaining one of the strongest among the countries surveyed by HSBC. China PMI stood at 52.3 last month, which is up from a December reading of 51.5."We see increasing signals of a sustained growth recovery in the coming months: the steady investment growth led by infrastructure projects, the improving labour market conditions boosting consumer spending, and the ongoing re-stocking process to lift production growth," Hongbin Qu, Chief Economist, China & Co-Head of Asian Economic Research at HSBC, said in his upbeat comment.
You can share this story on social media: