M&A grow 111% in Russia in 2006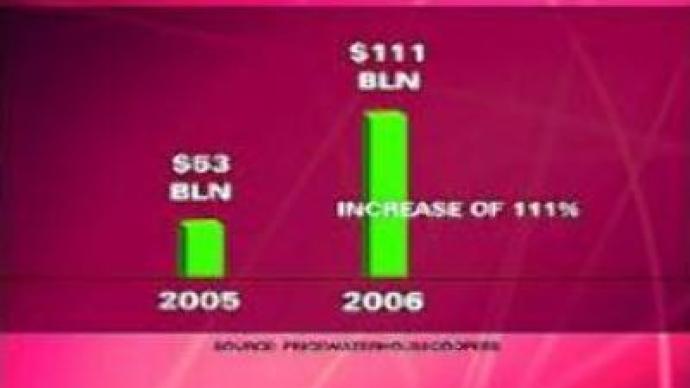 The recent economic boom and the resulting increase in purchasing power of local consumers have made Russia one of the world leaders in mergers and acquisitions, which increased 111% in 2006, according to a report by PriceWaterhouseCoopers.
It suggests M&A increased from $US 53 BLN in 2005 to more than $US 110 BLN in 2006 with an average deal size hovering around $US 180 MLN. Deals volume almost doubled from 706 deals in 2005 to more than 1,200 last year. The hottest industries for the M&A activity was the metals sector, financial services and energy and utilities. The biggest deals include the marriage of the metals giants Sual and Rusal, the merger of leading food retailers Pyaterochka and Perekrestok and Rosoboronexport's purchase of Avtovaz and VSNPO-Avisma.Another auditing firm, Ernst & Young, found that Russia had more M&As than any other CIS country. With a total of US$ 71 BLN that is a 40% rise compared to the year before. There are several factors behind enthusiasm.
"One of the biggest players in this segment is the state. It enters the most attractive sectors of the economy. It all started a few years ago with state-run Rosneft buying Yukos' main asset Yuganskneftegas,"
explains Konstantin Simonov, the head of Russia's National Energy Security Fund.And this year, the M&A activity in Russia is expected to rise even further, while some problems persist.
"The main difficulty for mergers and acquisitions in Russia is having to get approval from a whole slew of government agencies. That creates a lot of problems. And once the Russian State Duma passes a law on strategic sectors, foreign investors will have an even harder time bringing their money into Russia,"
added Konstantin Simonov.Russian economic growth, which has averaged more than 6 % for several years now, has made the country an important investment destination.It seems that setbacks such as the Yukos case or the pressure on Shell to give up control of the Sakhalin-2 project in favor of Gazprom, did not discourage foreign investors from entering the country. Acquisitions in Russia by foreign companies nearly doubled in 2006.
You can share this story on social media: