Luzhniki market closure to take 56 thousand metres off retail market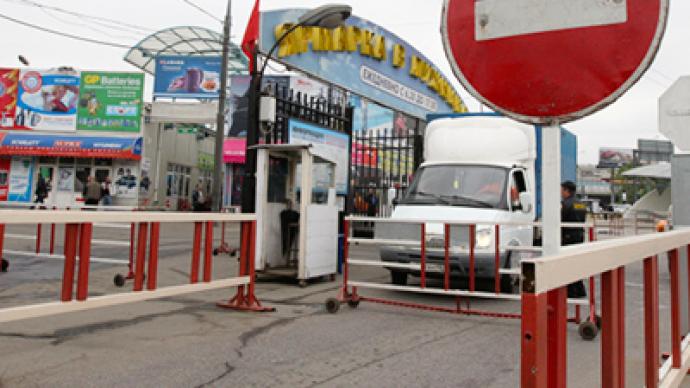 The Moscow city government has officially closed all retail operations at the Luzhniki market.
­The closure, under Moscow City directive, ands all trading activities at a centre which formerly had more than 56 thousand square metres of retail space in an estimated 70 pavilions with Mikhail Orlov, Head of Moscow's Trade and Service department, saying the site will be refocussed on sports and recreational activities with a far smaller retailing presence.
"Over 70% of retailers have already moved out from Luzhniki with the rest expected to leave in several days. The former trade territory will be reconstructed and developed into new sports grounds and parks with only a few ice cream and cafés to be opened."
Orlov added that retailers were given a number of choices to change location without much harm to their business
 "The State put all efforts and offered attractive conditions for retailers to relocate their business in other existing trade areas of Moscow. There is enough retail space on Moscow markets which are located outside of the city centre"  

A key factor behind the closure of the market, along with the former Cherkizovsky market was inappropriate trade area usage with numerous trade violations leading to serious security issues.
A report from the Moscow Prosecutor's Office site in May 2011 revealed numerous violations of the law as well as health issues with Luzhniki stadium, and called on the trade section of the City to act.
"This year investigations held in the trade area of Luzhniki revealed numerous violations of sanitary-epidemiological norms, as well as immigration and labor laws, and violations of fire safety, technical protection of objects of transport infrastructure" 

InvestCafe analyst, Anton Safonov, says the closure of Luzhniki retail market was unsurprising, with the area obviously being used inappropriately. In the lead-up to Russia's hosting of the World Cup in 2018 he says it was certain to be moved.
 "The retail format on Luzhniki market did not align with the entire concept of the Sport complex which initially had been planed to host Championships and other sports events.  Ultimately, Moscow will be hosting World Football Championship and Luzhniki is one of the main grounds for that event, which means it should provide sufficient infrastructure and security recognized by FIFA committee. It becomes important to increase the attractiveness of Luzhniki and all sports grounds in Russian cities hosting WFC which is why Moscow State is looking to consolidate and manage that type of assets"

Safonov added that the closure of the market, and others over the last year, is likely to lead to pressure on the retail sector.
"The volume of trade on Luzhniki was tremendous and at the same time impossible to estimate. The revenues of Luzhniki owners, retailers, wholesalers and Moscow State were incomparable. We have seen several similar retail area formats which have been demolished over the last year and no new retail areas were offered as an alternative for retailers to continue their business. That is leading to a shortage of retail space in Moscow, leaving only a few available locations such as Moskva and Sadovod retail markets both on the South-West of Moscow. I think as soon as rental prices will go up in those retail areas many individual retailers and wholesalers will be forced to leave the market and that could inevitably lead to a slowdown in regional retail which is the biggest client market for wholesalers from Moscow."