Lukoil to build one of the biggest oil rigs in Russia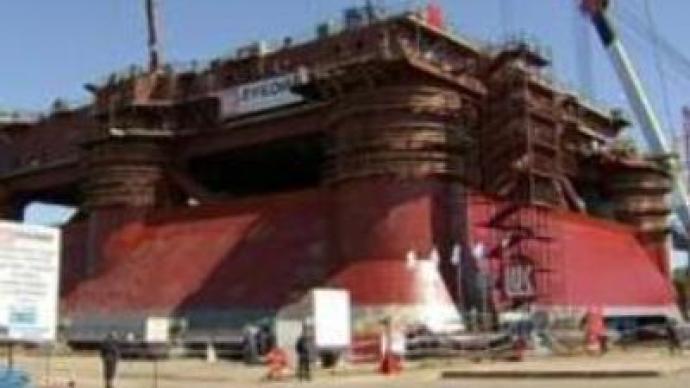 A massive oil rig, weighing more than 15,000 tonnes, is being built by the Russian oil company Lukoil near the southern Russian city of Astrakhan. When the oil extraction unit is mounted in November, it will be more than 100 metres tall.
The Caspian sea is home to most of Azerbaijan's 30 BLN barrel oil reserves but geologists had dismissed the huge Russian portion as only good for fishing. However after 11 years of exploration Lukoil has finally struck black gold. More than 1 BLN barrels of reserves have been found around the Filanovsky section of the Caspian Sea, 100km south of Astrakhan port.Lukoil's President, Vagit Alekperov told that this is a crucial discovery not just for Lukoil but for Russian oil production as well.
"We expect our Caspian reserves to account for some 14% of total Lukoil production,"
he told.Meanwhile, analysts warn the government's draconian oil extraction tax makes it tough to turn a profit.
"Upstream developments are not profitable in Russia due to the very severe taxation regime that, we believe, should be changed,"
said Dmitry Lukashov, senior oil analyst from Alfa-Bank.The Chairman of Russian Federation Council, Sergey Mironov, agreed that the tax discourages oil exploration.
"You can imagine how hard it is to get oil 140km from the coast, 40 meters deep, in extremely testing conditions. We are currently changing the one-size-fits-all tax in favor of a multi-tiered structure with preferable terms for extracting in difficult conditions,"
he said.Leading politicians met at Lukoil's annual general meeting on Tuesday to discuss a new law slashing oil taxes. This includes scrapping the mineral extraction levy and lowering other oil duties, which altogether eat up 60% of oil company revenues. However the law will leave the record US$140 per ton oil export tariff in place. Energy exports now make up 68% of total Russian exports, at a time when oil production is slowing. This discovery on the Caspian Sea will provide a vital shot in the arm not only to Lukoil, but to the Russian economy on the whole.
You can share this story on social media: