Lukeria makes a monkey out of portfolio professionals with 2009 returns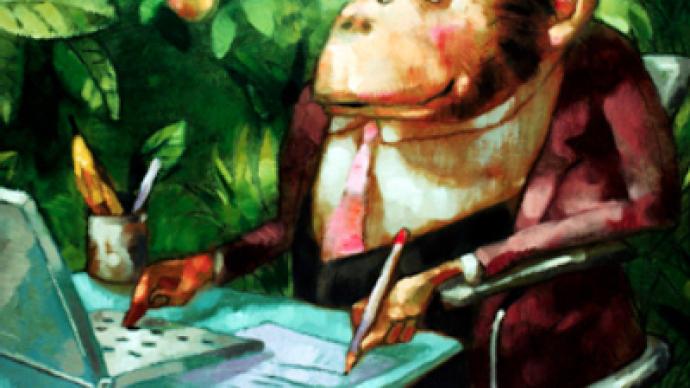 An investment portfolio assembled by a circus monkey has outdone 94% of managed portfolios in Russia in 2009.
More than a year ago with the RTS index down near 700 Finans Magazine in Russia coaxed a circus monkey called Lukeria into selecting a portfolio, which consisted of Avtovaz GazpromNeft, Lukoil, Polyus Gold, Rosneft, Sberbank, Surgutneftegaz, and Uralsvyazinform.
Just over a year later with the RTS well over 1500, or up more than 100% for the year, Lukeria's selections are looking inspired. Its portfolio is up 194% in comparison with what Finans Magazine says is a mutual fund average of 109%, and that that makes it better than a massive 94% of mutual funds.
A look through the portfolio sees that with Lukoil, GazpromNeft, Rosneft and Surgutneftegaz included, Lukeria had a keen eye on oil. A year ago it was trading at about $35/bbl, and the portfolio has been boosted by its major rebound over the course of 2009, with its price this week hovering at more than $81/bbl. Lukeria also opted for Polyus gold, Russia's largest gold producer, and 2009 saw the gold price reach a series of all time highs and pushing beyond $1200 and ounce before subsiding back towards $1100 at the end of the year.
Of the monkey's other selections, Urals region fixed line telecoms provider, Uralsviyazinform has posted a major share price gain despite not having had a great year, with its 9M 2009 figures down marginally on the previous year. Sberbank's share price has rebounded strongly despite its postings being well down year on year, to be the single best performer in Lukeria's stable, with Russia's largest bank becoming a mainstay of the governments attempts to buttress the financial system, and maintain consumer expenditures.
The only Lukeria selection which may have some scratching their heads is Russia's largest carmaker, Avtovaz. Its share price is up, but only marginally, and the company is fending off crippling debts, and slumping sales with a restructuring which is shedding thousands of jobs, while seeking government bailout funds.
You can share this story on social media: