Lloyd's chief takes $2.8 million bonus in shares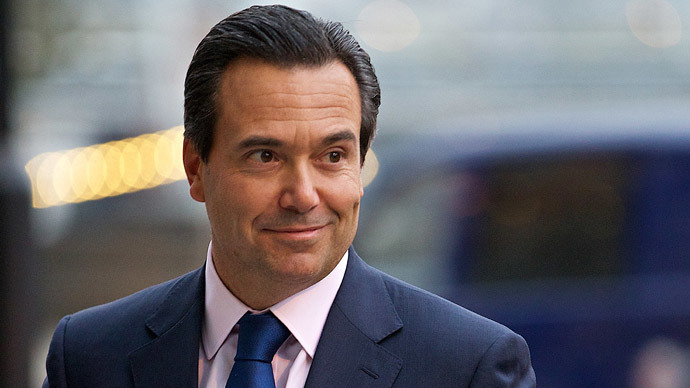 The CEO of Lloyds Bank, Antonio Horta-Osorio, will get his bonus worth $2.8 million paid in shares vested in 2019. While the CEO insists the reward was fair as the bank is "back to normal", critics call it a "kick in the teeth of hard-working staff."
Antonio Horta-Osorio will get his reward on condition that the government will sell off a half of its remaining 33 percent stake, acquired during the bail out of the troubled bank, or if the share price will hold above 73.6 p - the average price paid by the Government when the bank was rescued.
The bank will also pay about $658 million in bonuses to its 91,000 employees, which marks a moderate growth from $608 million paid in 2012.
Horta-Osório said he was taking his bonus after the share price rose 70 percent last year compared with a performance of rivals of between a 12 percent rise and a 14 percent fall.
In 2013 Lloyds' pre-tax profit stood at $690 million, the first time in the black since its $34 billion bailout.
"I came to Lloyds three years ago to fix this bank and help taxpayers get their money back," said the Lloyds CEO. "We absolutely consider ourselves back to normal. It's absolutely up to UKFI and the Treasury to decide how and when to dispose of those shares," he said.
Horta-Osorio's counterparts at Royal Bank of Scotland and Barclays rejected their 2013 bonuses.
Unions attacked Mr Horta-Osorio's refusal to forgo his annual bonus.
Frances O'Grady, General secretary of the Trades Union Congress (TUC) said: "With Lloyds still owing billions to the taxpayer and the amount it has had to set aside for PPI [payment protection insurance] mis-selling rising by a whopping $3 billion (£1.8 bn), now is not the time for its chief executive to be taking a multimillion-pound bonus."
The Unite union on Thursday criticized a 2 percent pay rise for staff at branches and call centers this year at Lloyds, which has cut more than 35,000 jobs since its bailout.
The union said the bonus was a "kick in the teeth to the taxpayer, and to hard-working staff who don't know if they will be next in line for the chop from one day to the next".
"Profits have doubled thanks to ordinary workers doing extraordinary work behind the scenes to turn the bank around but they have been rewarded with an insulting 2 percent pay deal – the lowest pay deal of the big four banks so far," the Unite union national officer Rob Macgregor said.
The share price change let the government sell off 6 percent of its stake in September and there are expectations that a further 33 percent sale could begin after the annual report is published on the 6th of March, as the bank said it was ready to return to private ownership.
You can share this story on social media: