Liberalized electricity market in Russia likely to become an oligopoly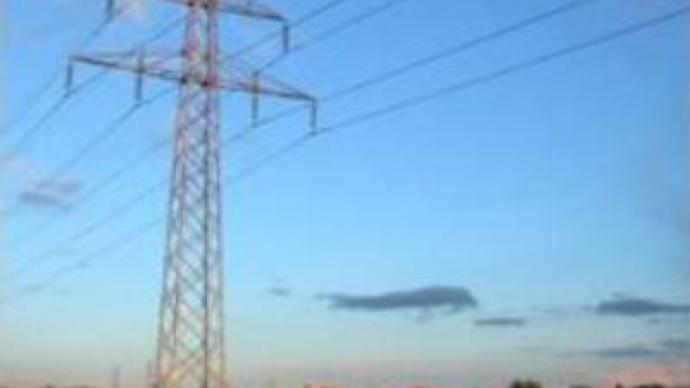 The rising interest in Russia's electricity market follows the government's plan to fully liberalize it over the next four years. Experts believe however, that the majority of assets will likely go to domestic rather than foreign companies.
Historically, Russia's electricity sector has been regulated on a cost-plus basis. This means, market participants submit cost forecasts, which the government uses to set tariff rates. The resulting low-tariff regime, however, means huge losses for the electricity companies, which are unable to make or retain profits. Last year, the government vowed to fully liberalize the electricity market by 2011. Yet, takeovers by big domestic companies may ultimately undercut competition, some experts say.
"I am not a big fan of Gazprom acquiring huge stakes in power generation. Gazprom is a huge supplier of gas to the sector and at the same time controls a huge bulk of the generating assets, so all the remaining part will be at a disadvantage. They will be less secure in terms of gas supply and Gazprom will have a disproportionate power in the sector,"
believes Anatoly Romanovsky, Director of Hermitage Capital Investment.Last year, Unified Energy Systems sold Gazprom a controlling stake in Mosenergo, Moscow's main power provider. Earlier this year, Gazprom and coal mining company SUEK signed a deal for the creation of a joint venture. A number of key decision makers opposed the deal, saying it will increase Gazprom's power across too many sectors of the economy.This pattern will likely to prevail in Russia's electricity market. In its bid for OGK-3, Norilsk Nickel beat several foreign firms including Finland's Fortum and Italy's energy giant Enel.
"In my view, the majority of assets will end up in the hands of Russian strategic buyers. They are just more ready to take all the risk. Some of them are big consumers of electricity, some of them like Gazprom are not only consumers but also suppliers to the electricity sector, so their risks are somewhat mitigated because they are integrated vertically, while the companies coming from abroad take much higher risks,"
Mr Romanovsky says.However, some analysts say deregulating the market traditionally results in at least some consolidation, as the most efficient players eventually take over smaller ones.
"If you look around the globe, you'll probably see that usually the electricity market is dominated by few albeit rather big players. Germany electricity market is pretty much an oligopoly. The same is true for Scandinavian market and pretty much any other electricity market around the globe"
claims Dmitry Bulgakov form Deutsche UFG utilities research.
You can share this story on social media: