World's largest pipe maker TMK becomes second profitable globally
Published time: 31 May, 2013 11:21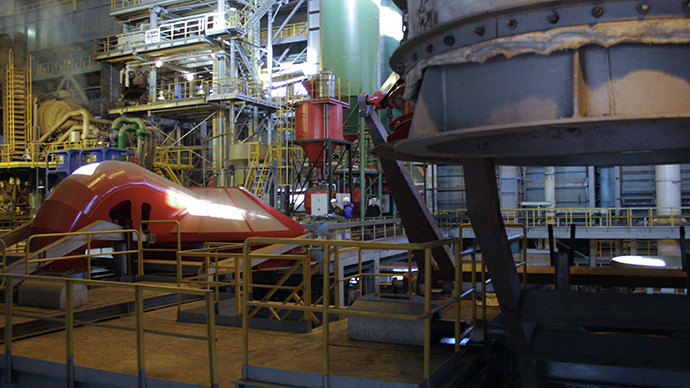 The Russian producer of oil and gas pipes has replaced rival Vallourec of France to become the second most profitable pipemaker after Luxembourg based Tenaris.
The company's EBITDA rose 24% to $273 million in the first quarter of this year compared to the previous quarter, TMK reports. Its close competitor the French Vallourec saw a decrease of 19% to $191mn over the same period. Luxembourg Tenaris remains the leader with earnings of at $699 mn.
TMK's 1st quarter revenue increased by 6% to $1.7 billion, profit rose almost three- fold to $85mn.  As a result, the company's profitability by EBITDA reached 16%.
Dmitry Pumpyanskiy,  the head of TMK, says that the company will continue to develop the production of pipes with high added value. He also pointed out that the task was to make TMK the leader by market capitalization, but it is "a long, tedious, hard, but understandable way", Vedomosti quotes. 
On Thursday  TMK capitalization on the London Stock Exchange was $2.6bn. For comparison  the capitalization of Vallourec is $6.8bn (on  the Paris stock exchange), and Tenaris is  $26,1bn (NYSE).TMK started developing the premium pipe segment about 2 years ago, while Tenaris and Vallourec has been  working in this market for many years - since the US began to develop complex oil and gas deposits, Vedomosti quotes Vasiliy Kuligi from Renaissance Capital as saying.
TMK has work to do and where to develop. Tenaris currently earns more than $700 on 1 tonne of premium pipes, while the Russian company makes only $250-300, the analyst says.TMC intends to continue investing into premium pipe production, Vedomosti quotes a company representative.
This year its American division has launched a new production facility in Edmonton, and the company bought several service assets in Texas. TMK also has production plants in Russia, Romania and Kazakhstan and has an annual production capacity of more than 6 million tonnes of pipe products that it delivers to companies in more than 65 countries.
TMK clients include oil and gas companies Gazprom, Transneft, Lukoil, Rosneft, Royal Dutch Shell, Total,  Wintershall, Repsol, and Statoil.