World's largest Bitcoin exchange suspends US withdrawals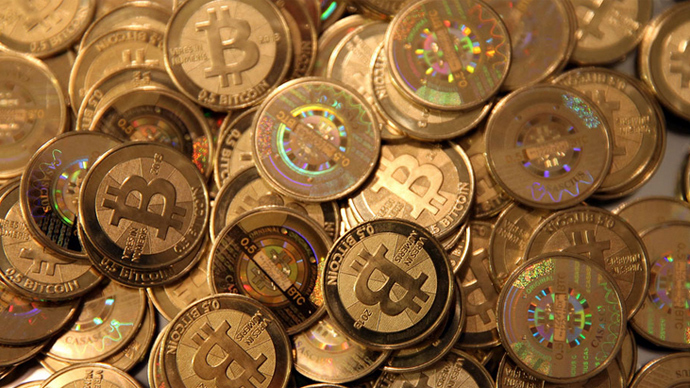 For the next two weeks Bitcoin users in the US will be unable to withdraw the virtual currency in dollars. Major exchange Mt. Gox cited an unusually high demand as the reason for the suspension, while customers worried the company has run out of cash.
Mt. Gox, based in Tokyo, Japan, handles approximately 80 per cent of Bitcoin transactions in the US and 70 per cent internationally. The popularity of the service, which allows customers to buy and sell items with relative anonymity, has led, indirectly, to the current transaction freeze. 
"Over the past week Mt. Gox has experienced rising volumes of deposits and withdrawals from established and upcoming markets interested in Bitcoin," a company statement explained. "This increased volume has made it difficult for our bank to process the transactions smoothly and within a timely manner, which has created unnecessary delays for our global customers. This is especially so for those in the United States who are requesting wire transfer withdrawals from their accounts." 
Users are still able to deposit into Mt. Gox and continue trading on other Bitcoin services, but the update has fueled speculation that the largest Bitcoin provider has grown too quickly and simply run out of cash, an allegation the company has not addressed publicly. 
"We are currently making improvement to process withdrawals of the United States Dollar denominations, and as a result are temporarily suspending cash withdrawals of USD for the next two weeks," the statement continued. "Please be reassured that USD deposits and transfers to Mt. Gox will remain unaffected, as will deposits and withdrawals in other currencies, and we will be resuming USD withdrawals once the process is completed." 
Recent estimates indicate the number of Bitcoins in circulation is at approximately 11 million, with the collective market value nearing $1.4 billion. The price of one Bitcoin was 107 Friday, after fluctuating wildly in recent months, according to bitcoincharts.com. 
While economists admit Bitcoin could have a bright financial future, its instability has been a point of reluctance for would-be investors. The temporary withdrawal restriction will almost certainly be another reason for hesitancy. 
"Without a safe infrastructure, a digital currency will never achieve widespread adoption by a mainstream audience," wrote Mark Courtney, a product and services director at GBGroup, an identity intelligence company, for Wired. "The initial success of Bitcoin proves that there is appetite for a type of digital currency, but without making the service trustworthy, more trading floors will close."
You can share this story on social media: