Italy's stocks bring mixed joy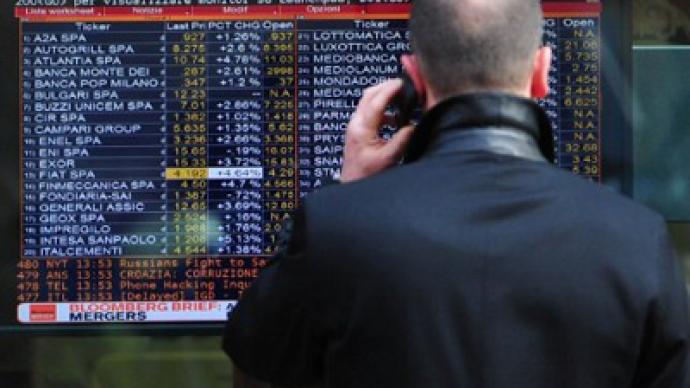 European markets recovered on Wednesday and won back the previous day's huge losses as investors started fearing another crisis. It was a successful sale of Italian short-term government debt that caused the turn around.
Italian shares jumped after the Italian Government raised the planned 11 billion euros in 12- and three-month bonds, with bids 1.6 times the amount on offer.The yields for one-year government bonds eased on Wednesday and were 12 basis points lower at 5.47% after adding as much as 31 basis points on Tuesday. Meanwhile the borrowing costs almost doubled as Italy had to pay 2.84% to sell its bonds, the highest level since December, comparing to 1.405% at the previous auction in March."Even though demand was strong, as had been expected, the result of the auction reflected increased tensions on sovereign bonds in the euro area that resulted in a significant increase in yields," the Central Bank of Italy said in a statement.Some experts say the borrowing costs grew as a reaction to planned labor reform aimed at renewing growth in the Italian economy, which has shrunk 1.2% this year. The reform project sparked heated debates between the government and Italian unions. Meanwhile Spanish yields on 10-year government bonds dropped 12 basis points to 5.82%, away from the concern level of 6%, which investors took as a positive sign. The IBEX 35 index jumped 2% to 7,578.80, lifted by the banking sector as Bankinter was up 4.2% and BBVA added 3.8%.But Germany, the eurozone's biggest economy, failed to cover the auction of government bonds for the first time since November. The country put 5 billion euro of the new 1.75% July 10-year bund and sold 3.87 billion bonds for 4.109 billion euro.
You can share this story on social media: