One million Indian bank employees strike against reforms
Published time: 22 Aug, 2012 11:09
Edited time: 22 Aug, 2012 15:09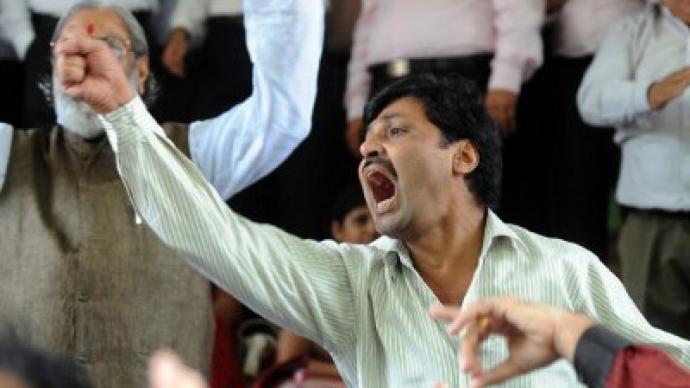 About one million Indian bank employees have started a two-day strike, protesting against reforms that would allow more private capital into the financial sector.
­In many cities across the country, banks were shut as thousands of employees, mainly the staff of state-run banks, demonstrated by holding banners and chanting slogans against the reforms in the financial sector, according to Reuters.

The largest lender the State Bank of India was forced to halt trading in onshore spot foreign exchange markets. It comes as a blow to the economy that faces its worst slowdown in almost a decade.

The strike comes a day ahead of an expected parliamentary approval of some changes in rules that would allow bigger role for investors in banks.

"Unless the government relents or the government gives some positive response, we are going to intensify our agitation," Reuters quoted J.P. Sharma, vice president of the All India Bank Employees Association as saying.

India has been trying to reform its banking, retail and insurance sectors, partly because it fears foreign investors could exploit domestic interests.

About 20 per cent of Indian public sector banks have foreign ownership. Some global banks want to acquire the smaller regional banks to expand their presence in Asia's third largest economy. To do that they need a hike in their holding limit.   

"Any move towards increasing the private sector role in the banking sector is a big fear for the unions and that makes them oppose it," D.H. Pai Panandiker, the head of New Delhi-based think tank the RPG Foundation told Reuters.
"The unions fear if the government continues with the reforms their positions will weaken and it will lead to job losses", he said

On Thursday the Parliament may approve amendments to the banking laws. They include raising shareholders' voting rights limit in private banks to 26 percent from the current 10 percent.

These amendments will be seen as a positive step by investors that seek more say in the country's financial system.

 However people like J.P Sharma think the amendments are "neither in the interest of the banking industry, nor in the interest of the customers, nor in the interest of the common people of this country."