In their own words: U.S. Russia business ties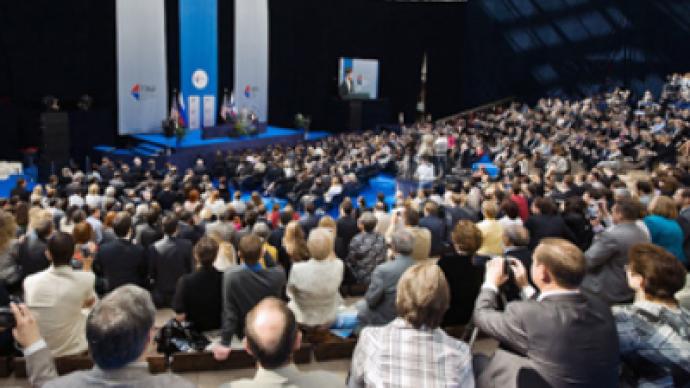 At the address by President's Medvedev and Obama of business leaders from the Russian Union of Industrialists and Entrepreneurs and the American Chamber of Commerce, key figures talked up the future of business ties.
DMITRY MEDVEDEV
"As for the WTO, we don't want to lose anything in what we have achieved during the last 16 years of talks. It was a long and difficult road. Frankly, we even got tired of it. We hope that the current resetting in relations will help conclude the agreement sooner rather than later."

ALEKSANDR SHOKHIN, PRESIDENT, RUSSIAN UNION OF INDUSTRIALISTS AND ENTREPRENEURS
"The business community supports the idea of Russia joining the WTO as a member of the customs union but on the basis of previously concluded agreements, with no delays or additional allowances. In that case, Russia will be able to join the WTO soon and this will set conditions for the other members. The business community is ready to take an active part in removing barriers."
EDWARD VERONA, PRESIDENT, U.S.-RUSSIA BUSINESS COUNCIL
"What makes Russia attractive to U.S. investors? First Russia's unparalleled of natural resources – oil, gas, minerals, timber, aquatic resources. Second, human capital – Russians have excelled in advanced mathematics, physics, applied sciences. And third, Russia's large potential consumer base – and Russians have shown a strong predilection for iconic brands, made in America, which they associate with quality."
BARACK OBAMA
"There is extraordinary potential for increased cooperation between Americans and Russians. We can pursue trade that is free and fair and that is integrated with the wider world. We can boost investment that creates jobs in both our countries. We can forge partnerships on energy, that tap not only traditional resources like oil and gas, but new sources of energy the world that will drive growth and combat climate change. All of that Americans and Russians can do together."
ELVIRA NABIULLINA, MINISTER OF ECONOMIC DEVELOPMENT
"At the beginning of April 2009, the volume of accumulated direct investment from the USA to Russia was about $3 billion dollars. That being said, it needs to be pointed out that Russian-American investment cooperation currently has a double-sided character. In terms of joint investment we now have a priority. In recent years, Russian companies have also been actively working in the U.S. – investment into the energy sector, dark and light metallurgy. And when speaking of investment, it is necessary to point out that real possibilities are notably broad, and we see this as a time to invest into Russia."

INDRA K. NOOYI, CHAIRMAN AND CEO, PEPSICO
"We would welcome creation of a rapid response system made under the auspices of the foreign advisory council, which would have a mandate to give a quick response in cases of investment or construction problems. The benefits of working in Russia are vast and we welcome the opportunity for working here in the next 50 years."

MIKHAIL PROKHOROV, PRESIDENT OF ONEXIM GROUP
"One the most important achievements of the American economy in the last century or maybe even the most important one was the creation of the U.S. innovation machine. It hovers in the best practices and ideas from around the world and puts them into practice in the form of a commercial product. Russia has yet to build a similar machine. It shouldn't copycat American the one but definitely use their experience."
ANDREW SOMERS, PRESIDENT, AMERICAN CHAMBER OF COMMERCE IN RUSSIA
"The purpose of this dialog is to develop specific areas where US and Russian business can come together and work in an effective way to influence governmental decisions which affect our business."
You can share this story on social media: