A Lagarde comme a lagarde: IMF head on defensive over Greece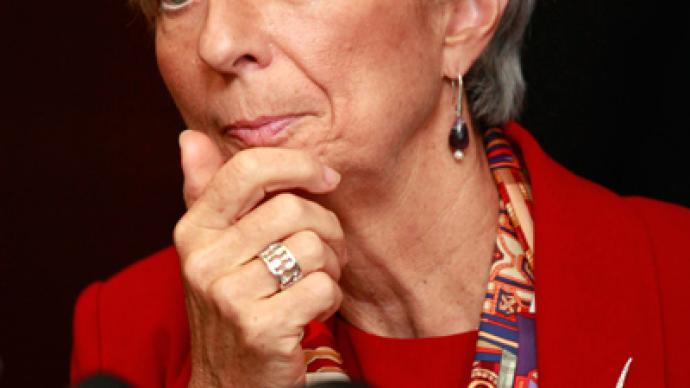 IMF chief Christine Lagarde was forced to be meticulous in her choice of words after the furious reaction in Athens to her "humiliating" statement about Greeks.
­On Friday Lagarde said she was more concerned about sub-Saharan Africans in poverty than about Athens hit by the economic crisis, and urged Greeks to "help themselves collectively" by all paying their taxes.
The statement released by the Guardian newspaper drew thousands of comments on her Facebook page, largely from Greeks criticizing the remarks.
"Nobody can humiliate the Greek people during the crisis, and I say this today addressing specifically Ms. Lagarde… who with her stance insulted the Greek people," Socialist leader Evangelos Venizelos told an election rally filmed late on May 26 and broadcast on Sunday. "I call on her to re-think what she wanted to say."

The French government also spoke out on Sunday against the comments by Lagarde. "I find (Lagarde's comments) rather simplistic and stereotypical," government spokeswoman Najat Vallaud-Belkacem told French television.
Ordinary Greeks were also quick to respond, launching a Facebook page titled Greeks Are against Lagarde. They also accused Lagarde on her page of aggravating their suffering in an economic crisis that has seen salaries and pensions cut.
Such public hounding from politicians and ordinary people forced Lagarde to back off after her verbal spanking, as she offered the Greeks words of consolation, saying that she meant well and was concerned about their wellbeing.
"I am very sympathetic to the Greek people and the challenges they are facing. That's why the IMF is supporting Greece in its endeavor to overcome the current crisis."
Her words might not have drawn such an outraged reception, had they not been made by the head of a top global organization, which has 188 member countries working to secure financial stability and offering a helping hand in case European countries run out of money.
In March the International Monetary Fund approved a second 28 billion euro ($36.7 billion) bailout for Greece, ending months of financial uncertainty. The country secured a joint IMF-EU bailout package after agreeing to a series of painful economic reforms and spending cuts.
Meanwhile, former Greek Prime Minister Lucas Papademos warned Greece may face problems by the end of June if international bailout funds are cut off following next month's election.
"From late June onwards, the ability of the government to fund its obligations fully depends on the approval of the subsequent installments of loans from the EFSF and the IMF," To Vima newspaper quoted Papademos as saying.
Greece has secured two bailout packages to help beat off bankruptcy. Austerity measures introduced as part of the first 110 billion euro bailout plan have taken a heavy toll on the country's economic activity and depressed consumption.
You can share this story on social media: