Fiat justitia: Icelandic ex-head hears verdict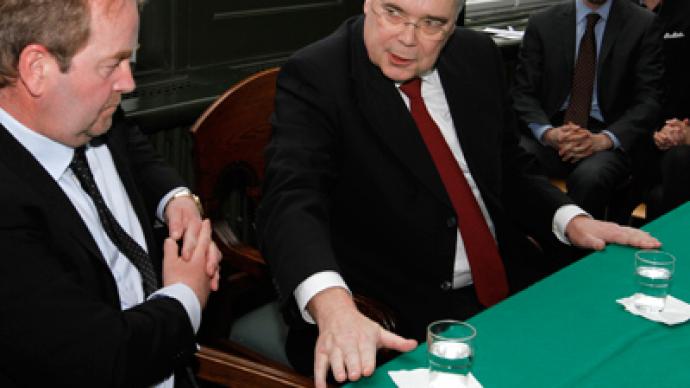 The only politician to face trial because of the global financial crisis, the former Icelandic Prime Minister, will not go to jail.
Geir Haarde has been found guilty of one charge related to the nation's banking crisis but cleared of four other charges of gross negligence. While some across the globe have cherished a dream to see hundreds of bankers and politicians facing trial, only one former leader was taken to court.Iceland was one of the countries worst hit by the financial crisis, with its banking sector collapsing under the weight of its debts in October 2008, as the country's three main banks defaulted within a week.Many Icelanders lost their homes and jobs in the crash and were angry that none of the men in charge of the banks that collapsed have been tried, but were looking forward to hearing the "guilty" verdict.   The 61-year old, who led Iceland's government when the nation's banks collapsed, is believed to be personally responsible for failing to rein in the country's banking sector before it imploded. However, a special court decided Haarde will face no punishment, and the state will pay his defence costs.  He could have been sentenced to up to two years in prison if he had been convicted.The ex-Prime Minister denied the charges, and told the court the banks' size would not have been a problem if not for their recklessness and a worldwide credit squeeze, which also brought down major banks in the United States and Europe.Iceland applied for membership of the EU in July 2009.The financial crisis had serious consequences for the Icelandic economy which is small and subject to high volatility. The national currency fell sharply in value, foreign currency transactions were halted for weeks. The market capitalisation of the Icelandic stock exchange dropped by more than 90%. As a result of the crisis, Iceland experienced a severe economic recession with the nation's GDP dropping by 5.5% in the first half of 2010. In November 2008 the IMF agreed to lend Iceland up to $2.15 bln as part of a stabilisation programme which ended in August last year. Iceland's financial position has been steadily improving since the crisis. Last month Iceland repaid about $440 mln ahead of schedule, with the IMF saying there's been visible progress in fiscal consolidation, but at a slower pace than expected and with greater expenditures.
You can share this story on social media: