Despite high profits HSBC puts aside billions for money laundering fines
Published time: 30 Jul, 2012 11:06
Edited time: 30 Jul, 2012 15:06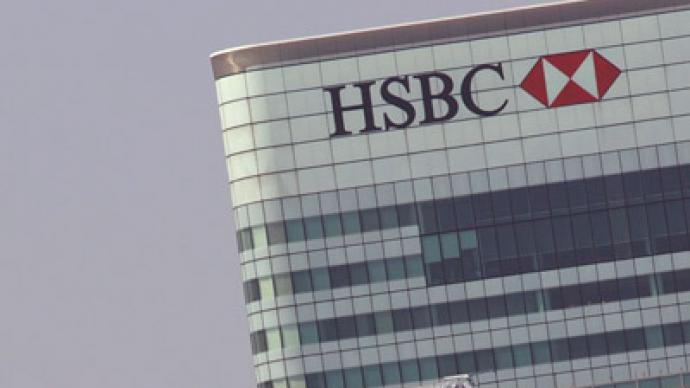 HSBC has set aside nearly $2bln to cover potential money-laundering charges as the bank's pre-tax profits surpass $12 billion, making it one of the most profitable lenders in the world.
­The bank profited primarily from $4.3bn in asset sales. HSBC has had to set aside $1.3bln to cover UK miss-selling compensation and $700 million to cover possible US fines over money laundering accusations.

Earlier this month the U.S. Senate slammed the lender for allowing clients to shift funds from dangerous and secretive countries.

The Senate's report said HSBC's Mexican operations moved $7 billion into the bank's U.S. operations between 2007 and 2008.

And now Mexico is fining HSBC $28 million in a money laundering investigation.

HSBC reported a fall in first-half net profit, citing a difficult global economic backdrop.

"Economic activity over the next six months and beyond will be planned against a backdrop of unusually difficult conditions in which to assess risks and uncertainties," the banks' management said.

HSBC's net profit fell to $8.44 billion for the first half of 2012 against $9.22 billion a year ago, while analysts forecast net profit of $ 8.3 billion.

The bank's Chief Executive Stuart Gulliver said he has been focusing on cost control to slash the bank's cost to below 52 percent of revenue.

Gulliver said the bank managed to achieve significant progress in selling or shrinking unprofitable businesses, and directing investment to faster growing Asian markets.

HSBC also showed a fall in investment banking revenue in the second quarter from a strong first quarter, following a trend seen among U.S. and European banks.

He also "apologized for "mistakes in the past."

HSBC is also not immune to the Libor interest rate rigging scandal that erupted a month ago at UK rival Barclays, and is expected to draw in more banks.

Barclays was fined $453 million for its Libor manipulation and regulators are investigating a dozen other banks around the world.