Housing growth in Moscow beats forecasts, sees solid 2010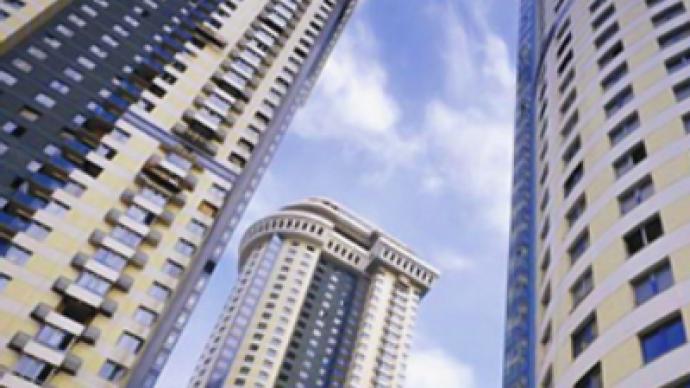 According to the Russian Register, the volume of housing sales in Moscow for the month of December has hit 8,500, besting even the most optimistic forecasts. Analysts say 2010 should be a strong year for the market.
The number of housing transactions went up 72% in December compared to 4,941 that were finalized in November 2009, and up year-on-year from December 2008 by 34%, according to figures published by the Russian Register, or Federal Service for State Registration, Land Registration and Mapmaking.
Deputy Director for Retail Business at Alfa-Bank, Ilya Zibarev, says the growth is due to lowered mortgage interest rates and initial deposit amounts, as the mortgage contracts share increased 15.8% on rates which decreased by 3-4% down to 14-15%.
In 1Q and 2Q 2009 it constituted between 8-9%, although the current share is still well short of the pre-crisis level of more than 20%.
However, head of analytical center IRN.ru, Oleg Repchenko, says the fall has stopped and the market is recovering with increases in ruble and dollar prices for real estate.
Alexey Shlenov, CEO of "Miel-Brokerage", was surprised at the size of the growth.
"We expected that the number of contracts will reach the level of December 2008 (6.3 thousand), but it is one third bigger."
However, he also believes the increase could be due to the fact that people deferred their purchases and, fearing another hike in prices, started buying again.
"Over the past two or three months we have noticed that the cheapest apartments are bought the quickest. This can be called the first symptom of the market's revival."
Valery Barinets, Director General of "A-realty Group" real estate agency, agrees.
"Those buyers who feel confident about their future started readily to take mortgages, fearing another increase of real estate prices. Over recent months, the prices for economy-class real estate in Moscow not only didn't go down, but, in certain positions (one- and two-room apartments in residential districts in modern block houses) began to go up."
RT spoke with Alexandr Pypin, head of Analytical Center GdeEtotDom.Ru, who said that 2010 should likely be positive in terms of deals.
"2010 will see a favorable situation for deals in Moscow's housing real estate market in connection with its low price fluctuation level. During the first half-year, the ruble prices will be relatively stable and business activity will gradually go back to the pre-crisis level. During the latter half of the year, a moderate ruble price growth is likely to begin, but at year end it will not exceed the inflation level by more than 5%."
Although he does not see an additional slide in ruble prices, he does believe that raw materials prices could play in important factor in the market for 2010.
"Primarily they are recurrences of the global economic crisis in raw material markets. During 2010, the world raw material price level will be the main factor determining Russia's real estate market vector. But emerging as a factor of some significance by year end will be a reduced amount of supply in the primary housing market."
Furthermore, he believes that the Government will not be able to lower the mortgage rate to 10% as promised.
"Reducing the 2010 average ruble mortgage rate to that level is impossible. Of course, this rate is quite possible for a number of low-risk mortgage credits, as well as for AHML, Russia's Agency for Housing Mortgage Lending. So, formally the Government will be as good as its promise by providing the credits. Where commercial bank crediting is concerned, the average rate is unlikely to be lower than 12-13% a year and even the semi-public banks (like Sberbank and VTB24) are unlikely to reduce their mass mortgage product rates below 11-12% in annual terms."
Pypin also said that until inflation gets to a low enough level, rates will remain relatively high.
"The mortgage credit rate is determined by an economy's nature as a whole. Generally, the rates are correlated with inflation, and accordingly, a low inflation level is a condition that can bring the rates closer to their European counterparts." Pypin continued.
"As expected, this country will be moving towards this particular inflation level during the next ten years. Besides, the "Europeanization" of Russia's mortgage arrangement will be promoted by foreign banks enjoying direct access to that market, and this cannot be achieved within one year either," the analyst concluded.
You can share this story on social media: